Towards the inevitable "non-being of sound" - The concrete and real music of Asian Meeting Festival


Narushi Hosoda
Similar to "folk" and "primitive", we should not discuss about "ethnicity", which retain traces of the intellectuals' ethic superiority.


- Jose Maseda(1)

Although "the West" or "Asia" are useful words to describe a general location and its content, when you try to have any detailed discussions they become immediately useless.


- Tadao Umesao(2)

If you think about it, "Asian studies" is just about making fuss within a cage that Europe has set up.


- Katsuhiko Tanaka(3)

(1) Maceda, José. Doron to merodi, tonan asia no ongaku shiso [Drone and Melody, Musical Ideas of Southeast Asia]. Translated and edited by Yuji Takahashi. Shinjuku Shobo. 1989, p. 48.
(2) Umesao, Tadao. Bunmei seitai shikan [Ecological History of Civilizations]. Chuko Classics. 2002, p. 101.
(3) Tanaka, Katsuhiko. Mou unzari, giri no asia, asia wo kangaeru [Fed up with the obligation to Asia, Thinking about Asia]. Edited by Fujiwara Shoten editors. Fujiwara Shoten. 2015, p. 69.
Introduction, or somewhere between nationalism and globalism
The worst kind of nationalism is spreading. The Internet is filled with words of hate and racism powered by individual anonymity. News events are arbitrarily edited by mass media, carelessly building tension between nations. The Japanese government's blatant shift to the right seems not only to be a domestic problem but in line with a white supremacist government in the U.S. that ignores the U.N. like an aggressive dictatorship, widening distance between China and Russia, and an unstable EU triggered by Brexit. A nationalism that prioritizes the interests of its own race and state is now everywhere.

In contrast, a global economy is united without boarder or any time lag. Citizens can connect with each other easily without caring about the disputes between nations. Philosopher and critique Hiroki Azuma describes this detachment between nationalism and globalism as "an era of double layered structures"(1), which is a different kind of order established between nations and citizens, politics and economy, thought and desire.(2) Instead of a Hegelian idea of "maturing", Azuma proposes a "tourist = postal multitude" for "another path towards the public and universal while citizens remain within society and individuals are loyal to their desires."(3) If Hard and Negri's concept of "multitude" is a "negative theology" through its definition of "a grouping that should not exist but does because of the fact of its impossibility to group" then this is "a grouping built upon a collection of illusions, which exist after the fact of constant failure of trying to group."(4) This is similar to how groupings = cooperation within improvised music is constantly exposed to slips and miscommunication and the music can only be derived afterwards, yet it sounds like a musical "session" is at work.(5) Additionally, when Azuma describes "postal multitude" as "noise born out of the cracks of the empire and nation-state that will secretly transform public space through personal desires"(6), we can imagine the Asian Meeting Festival (AMF) as a concrete practice of this.(7)

Under the organization of Japan Foundation Asia Center, which was established in April 2014, Ensembles Asia started with Otomo Yoshihide as Artistic Director. Within this larger framework, Asian Music Network is one of the three projects, which aims to "explore new collaboration models of music together with artist coming from various backgrounds."(8) AMF is a showcase of the results of Asian Music Network's activities and has happened roughly once a year. The festival is curated by Hong Kong-based dj sniff and Yuen Chee Wai from Singapore. The first edition took place in Tokyo and Kyoto in 2015 and the second edition in the following year played at three locations in Tokyo, Kobe, and two locations in Kyoto. At the end of 2016, on its third edition, AMF made its first international debut in Singapore and Malaysia.(9) The forth and latest edition in 2017, was its first national tour crossing across the archipelago of Japan from Fukuoka, Kyoto, Sendai to Sapporo, intentionally avoiding the culturally saturated Tokyo but with large audiences attending in each city. However, we must not forget that the origins of this festival are with Otomo Yoshihide. In 2005, he independently organized a showcase of Asian musicians at Shinjuku Pit Inn. He continued to organize these "Asian Meetings"(10) in 2008 and 2009. So if we include these, the festival has been held seven times.

One of the very distinct characteristics of AMF is that it is a valuable meeting opportunity for unknown "experimental" musicians from around Asia. With the Internet, we tend to think that the distinction between the underground and mainstream has diminished, and that all information can be equally accessed. In reality this kind of thinking has the danger of making music that cannot be found on the Internet invisible. Particularly one reason that makes exchange difficult is language.(11) Because there is no common language in Asia, searching for music from neighboring countries is not as easy as when trying to find music from Europe or the United States. English still barely functions as mediator, but the fact that everything has to be translated into English to communicate with nearby Asian countries feels like under a colonial structure. Another reason that causes difficulty is the political divide. Although travel between Asian nations has become easier after the 1980's, still it is common for musicians to be banned, such as in 2015 when Japanese musicians could not play in China.(12) The practice of AMF will bridge these gaps and open paths for both ends to directly exchange face-to-face by individuals. This will not be driven by principles of global economy but form a momentum created by culture.

(1) Azuma, Hiroki. Genron zero, kankogaku no tetsugaku [Genron Zero - The philosophy of the tourist]. Kabushikigaisha Genron. 2017.
(2) Ibid., p. 127.
(3) Ibid., p. 150.
(4) Ibid., p. 159.
(5) This characteristic immediately fits into the "ghost." A "ghostly" improvisation is "postal." In contrast, a "negative theological" session is for example John Zorn's "Cobra" which is made possible by the incommensurability of musical genres.
(6) Ibid., p. 160.
(7) Yuen Chee Wai and dj sniff are the Project Directors of Asian Music Network
(8) Asian Music Network website: http://asianmusic-network.com/en/about/
(9) Singapore edition was in collaboration with "Playfreely", which is organized by Chee Wai's band "The Observatory." Kuala Lumpur was in collaboration with KLEX Festival, which is organized by Kok Siew Wai and Yong Yadsen.
(10) I follow the distinction made by Kanako Yamamoto and will separate between "Asian Meeting Festival" and "Asian Meeting." Yamamoto writes: "I have made a distinction between Asian Meeting Festival (AMF) and Asian Meeting. The purpose is to clarify the difference between the project that currently runs by Japan Foundation Asian Center with Otomo Yoshihide as Artistic Director since 2014 and the past editions which were self organized by Otomo himself. ...The early iterations of Asian Meeting were called Asian Meeting Festival too, but since Otomo frequently referred to the festival in his blog, Otomo's Jamjam Diaries, as just Asian Meeting, I decided to use this." Kanako Yamamoto, Asian Meeting Festival - Its value and substance as a network (2016). http://asianmusic-network.com/en/archive/2017/11/asian-meeting-festival-in-collaboration-with-playfreely--its-value-and-substance-as-a-network-kanako.html
(11) For example Otomo Yoshihide talks about his experience: "Our neighbor "Korea" is a near and far country for us. Of course there is the history of Japan colonizing the Korean Peninsula. But even on a smaller every day level, the biggest hurdle for Japanese and Korean musicians to exchange is actually language. We don't have a common language like "English" that is used between European musician to communicate." Improvised Music from Japan 2004. IMJ. 2004, p. 80.
(12) Yamoto, Kanako. Koen chancel, soshite kaisai sareta secret concert [Multiple Tap Shanghai - The cancelled concert and the secret concert]. https://offshore-mcc.net/column/513/. Dj sniff also writes: "In many Asian countries art and music is censored and the information we can collect from the Internet is limited." Asian Meeting Festival 2016, http://asianmusic-network.com/en/archive/2015/12/festival-2016.html

1:A gaze towards the other, or a local music experimentalism
Although I have mentioned that the starting point of AMF was Otomo's Asian Meeting in 2005, we can look back further 20 years to a pioneering attempt to encourage exchange amongst "experimental" music in Asia. This is the event organized by second generation Japanese free jazz trumpeter Toshinori Kondo titled "Tokyo Meeting." In contrast to the first edition in the previous year that mostly invited musicians from Europe and the United States, the second edition in 1985 featured Kondo's group IMA, Kim Duk Soo's Samul Nori performance group from Korea, which later establishes the theatrical genre of "Samul Nori", and the first Korean free jazz trio by Kan Tae Hwan, Kim Dae Hwan, and Choi Sun Bae. The later trio made their Japan debut at this event, and although the group dispersed afterwards, saxophonist Kan returned to play in Japan on several occasions. We can say that Tokyo Meeting was the forerunner of AMF in that it built a network between "experimental" music in Japan and Korea that had no exchange prior to the event. Sadly Tokyo Meeting did not continue after its second edition.

However, Otomo's largest inspiration to organize Asian Meeting in 2005 was not Toshinori Kondo's activities, but guitarist Yukie Sato who is based in Seoul and was independently organizing an experimental music series called "Pulgasari." Witnessing unusual music emerge from his "second" home Hong Kong and places that he started to frequently visit such as Seoul and Taipei, Otomo strongly felt that he wanted to introduce these to Japan. Another more indirect reason was seeing anti-Japanese sentiment heighten in China and images of protestors attacking Japanese restaurants which led to his feeling that individual relationships have to be separated from divides created by nations. This later perspective gives Asian Meeting a careful political dimension that Tokyo Meeting did not have.

True enough, Tokyo Meeting was met with harsh criticism regarding the location in 1985. The second Tokyo Meeting took place at the National Showa Memorial Park, which was built two years before. The park was built to commemorate Japan's former Emperor Hirohito who led the nation during World War II, and the location was the former grounds of the Imperial Army's Tachikawa air force base. With little regard to the history of Japan's relationship to Korea during the war, Tokyo Meeting had brought Korean musicians to this location to play. Music critique and taishogoto player Kenichi Takeda criticized this by saying "the choice of the venue is insensitive and vulgar."

Although it was a valuable attempt by Kondo, the criticism is valid considering Japan's historical past in Asia. The same criticism should be applied to the study of music. In 1944, when the Japanese Empire was at its peak of aggression in Asia, a book titled Asiatic Music Theory was written by one of the founders of The Society for Research in Asiatic Music, Ryoichi Taki. While introducing categories of music divided by three regions of Mongolia, Manchuria and Sino, Taki calls for the building of a "true and new Asiatic music" for "completing the establishment of a Greater East Asia culture" and claims that Japan must take "a leadership role amongst the East Asian people to push forward a healthy development of Asian music. Although one could recognize this as an attempt to improve literacy toward non-Western music during a time when most music was considered to be Western music and the restrictions of scholarly research during wartime Japan, we should not allow this kind of attitude nor forget its historical consequences.

Within this context, Otomo was conscious about historical and geopolitical issues surrounding the network that he was building through Asian Meeting. He wanted "to avoid a situation in the future where people will hate each other simply just because of their ethnicity." The current curators of AMF, Yuen Chee Wai and dj sniff, who were passed on the role from Otomo, are also sensitive to these issues. On one hand, dj sniff works with the intention to "bring together artists equally from each Asian country, generation, and gender" but on the other hand also critically reflects on the consequences of political correctness by questioning "as a curator for a cultural exchange project, am I trying to present some kind of utopian image of unity? Perhaps this is a projection of what I think is local culture and its network, and that I am softly applying power so that they will match my narrative." Yuen Chee Wai also commented: "We want to be careful that we are not just bringing exotic people and showing them off." The reason why this project still titles itself with "Asia" is not because it aims to create a community united through geographical, political, economical, or cultural ties, as seen in policies such as ASEAN Plus Three, but because it carries on Otomo's vision of Asian Meeting as a meeting point for areas that are otherwise divided while at the same time carefully attending to historical and social issues.

What kind of artists does AMF invite? One of the main differences with a typical festival is that most artists are not only talented musicians but also are active in creating "spaces" for music. This model can be traced to FEN, which was formed by Otomo in 2008 with Yuen Chee Wai, Yan Jun, and Ryu Hankil. According to Otomo they are "all musicians but also key figures in each of their cities, and like myself have been investing personal resources to organize various events." AMF is also envisioned to be as "not a one time event... but as a starting point for long term network built by artists communities." And "the most important criteria to judge our success is that whether we were able to prepare a collaborative space among musicians that will continue on its own after the festival."

What constitutes the uniqueness of the artists on a more musical level? Yuen Chee Wai and dj sniff have a very interesting research report considering this point. "In Southeast Asia artists making experimental music are not within categories of experimental music or improvisation like in the West or Japan we these genres are established, but rather explore their own music in relationship to popular genres such as folk, metal, punk, hip hop or traditional music." Therefore their experimentalism in music is not autonomous standing on its own, but is found in relationship to already established genres of music. This situation seems to apply to in Japan and the West even where "genres are established." Many of the musicians who are invited to AMF cannot be categorized in these genres, and their practice can be instead seen as an invasion to or deviation from established genres such as free improvisation, noise, contemporary music, free jazz, and sound art. On one hand they lean upon conventional genres of "popular music" or "traditional music" and on the other hand they are also "experimental and improvisational." An individual localism emerges through a practice of "experimentalism" on both ends. Of course the musicians that participate in AMF do not represent or speak for their region. What is here is an "experimental" musical activity that is rooted in each of their local origins, but at the same time has the power to uproot from that exact foundation.

(1) The overview of the second Tokyo Meeting is described in detail in the following text: Kitazato, Yoshiyuki. Oto no delta chitai de hottategoya wo tateru kokoromi [An attempt to build a shack in the delta of sound]. Jazz Hihyo vol.56, 1986 and Jazz Hihyo vol.57, 1987. Kitazato talks about Asian Meeting recalling his memory of Tokyo Meeting: "Both follow the style of our import culture / translation culture since the Meiji era, and are attempts to decentralize a tradition of this country's modernism, which has been centered around the West but starting from Asia." Kitazato, Yoshiyuki. Signal to Noise vol.6. An entry on mixi. 2008.
(2) The first edition invited leaders in European and American free music such as Peter Brötzmann and Bill Laswell with an impressive local line up of Katsumi Watanabe, Ryuichi Sakamoto, Yuji Takahashi. The recording of this concert was later released as a cassette book: "Cassette Book TOKYO MEETING 1984" Toujusha, 1985.
(3) However in 1985 Seoul Meeting , and in 1991 and 92 Imaji Meeting, the hometown of Kondo in Ehime Japan, was held.
(4) Otomo, Yoshihide. Otomo Yoshihide no JAMJAM Nikki. Kawade Shobo. 2008, p. 272.
(5) Ibid., p. 366
(6) Takeda, Kenichi. Tokyo Meeting 85. Music Magazine 1985, November edition. Music Magazine. 1984, p. 140.
(7) Taki, Ryoichi. Toyo Ongakuron [Asiatic Music Theory]. Kougakusha. 1944.
(8) Otomo, Yoshihide. Otomo Yoshihide no JAMJAM Nikki. Kawade Shobo. 2008, p. 272.
(9) dj sniff. Improvisation, collaboration, and broken language - Looking back at Asian Music Network and AMF. http://asianmusic-network.com/archive/2017/09/---amf.html
(10) Yuen Chee Wai Interview. http://asianmusic-network.com/archive/2016/04/post-1.html
(11) Kendan Asia de shinayakana network wo kizuku [Three person talk: Building a flexible network in Asia]. http://artscape.jp/focus/10106671_1639.html
(12) Yuen Chee Wai, dj sniff. Asian Meetting Festival 2016. http://asianmusic-network.com/en/archive/2015/12/festival-2016.html
(13) dj sniff. Sokkyo, kyodo, katakoto - asia music network to AMF wo furikaette [Improvisation, collaboration, and broken language - Looking back at Asian Music Network and AMF]. http://asianmusic-network.com/archive/2017/09/---amf.html
(14) Yuen Chee Wai, dj sniff. Asian Meetting Festival 2016. http://asianmusic-network.com/archive/2015/12/festival-2016.html . Also refer to: Lippit, Takuro Mizuta. "Ensembles Asia: Mapping Experimental Practices in Music in Asia." Organised Sound, vol. 21, no. 1, 2016, pp. 72-82.
(15) "Local means on location....It is not an actual territory surrounded with boarders, but in principle a fluid area that can be established anywhere." Hiruma, Ken. Local Music. Inscript. 2005, P. 8.

2:Instrumental music and tradition - Nguyen Thanh Thuy, Yii Kah Hoe
Musicologist Takatomo Kurosawa once described Southeast Asia as the "museum of world instrument history."(1) Indeed, the variety in usage, shape, and complexity among instruments from Southeast Asia makes one realize how vast our world is and the richness of its history. This escapes instrument categories based on Western instruments such as Sebastian Virdung's three categories of stringed, sounded by air, and other resonant instruments or Erich von Hornbostelas' instrument classification based on sound producing material, which embodies a Western perspective. The diversity in Southeast Asian instruments helps us establish a critical perspective against these arbitrary categorizations.
Consequently, these various rich instruments have been discussed under the term of "traditional instruments" or "ethnic instruments" and as tools to define music from the non-Western world. However, with examples such as Bali's Kecak starting in 1933 under the suggestion of German painter Walter Spies or how the Japanese Taiko ensemble was initiated by jazz drummer Daihachi Oguchi in 1951, we can say that people's notion of "traditional music" and "traditions" are unreliable and ultimately groundless. However this groundlessness and incidental nature of "tradition" can become a starting point for a new and free practice in relationship to one's inevitable locality and relationship to music.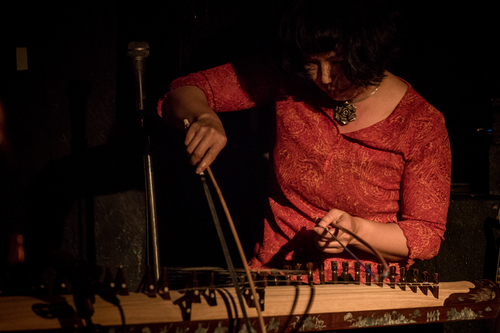 Nguyen Thanh Thuy was born 1977 in Hanoi, Vietnam, and is now based in Sweden. She is a performer of Vietnam's traditional instrument đan tranh.(2) The đan tranh looks similar to the Japanese Koto, but as opposed to the Koto's characteristic low sound, this instrument has a brighter and hard sound that is closer to the Qanun or Zither. Growing up with both parents as actors in Vietnamese traditional theater, it was natural for Thuy to become familiar with this instrument and its expression and in 1998, she reached the top by winning first prize at the national competition for đan tranh. However in 2000, inspired by composers Nguyen Thien Dao and Ea Sola who had just returned from France, Thuy becomes the first đan tranh player to explore the "experimental" world of music. Today, she is researching on gender and gestures in music, and in 2014 she collaborated with choreographer Marie Fahlin on "Vodou vibrations"(3) which an excerpt was performed at the Kyugo Elementary School in Tango. In this piece she placed the đan tranh vertically in front of her body with various preparations made to the strings with spoons, chopsticks, and clips. She played this unconventional setup with gestures that looked like a snake coiled around tree branches with incidental sounds triggered by the movement. Although it was only a short section of the whole composition, the ritualistic movements of the hands had a strong visual impact.
In contrast, Thuy's playing within an improvising ensemble seemed more focused on the sound than gestures. Her gestures look like minimalistic repetitions, but if you focus on the sounds they colorfully change upon every stroke, opening a kaleidoscopic world of sound. Her techniques range from dropping sticks on the strings, bowing out screeching sounds, and hitting the instrument's body and strings with fingers to create percussive sounds. There were moments where she dissects traditional phrases that she has been practicing all her life into raw sound materials and other moments where she prepares the string to create indescribable tones, transforming the instrument all together. She exposes the material reality of the đan tranh by pealing off the layers of "traditional" one by one. Thuy insisted on playing acoustic sound throughout the tour and at times she would stop playing and concentrate on "listening." At the concert at Fukuoka Asian Art Museum she explained that; "the sounds were already too beautiful that I decided not join in." But this was also because she was trying to gage where her đan tranh could be heard within the whirlwind of noise. Her to approach to her research on gender and gestures seem to also reflect her desire to listen and find the right sound to resonate in these fields.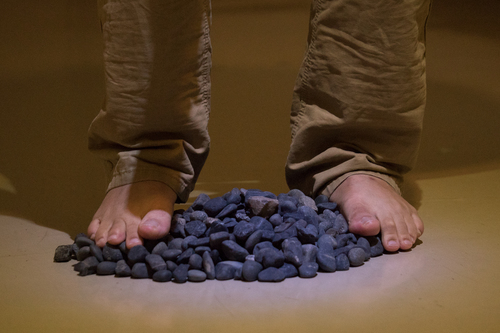 Similar to how Thuy's encounter with the đan tranh was inevitable, Yii Kah Hoe's path to become a traditional instrument player was also somewhat destined.(4) Based in Kuala Lumpur, Malaysia, Yii was born 1970 in Sibu, which is known for their Chinese immigrant community. He started to play the Chinese traditional flute, dizi when he was a young child. Since then he has also mastered the xiao, the Chinese vertical end-blown flute similar to the Japanese shakuhachi, and applies these along with many other instruments of various sizes to his improvisations. In contrast to Thuy who exposed the materiality of her instrument through extended techniques, Yii's interest is in how to structure abstract sounds. His playing that incorporates various extended techniques such as noisy breath sounds or mulitphonics remind us of Michel Doneda or John Butcher, but for Yii these are drawn upon traditional playing techniques. The sounds that we may consider "avant-garde" are merely the foundation for Yii's music. At the same time this makes us realize that the material possibilities of these instruments are covered up by the notion of "traditional." This has made Yii focus on composition. Being trained in Western contemporary music, Yii writes pieces for orchestral and chamber music, as well as for ensembles of Chinese traditional music. From 2000 and onward, he has won various awards not only in Malaysia but internationally, and has established himself as one of the most renowned composers of his generation.

Consequently, these activities as a composer have fed back into his playing of improvised music. He will extract musical phrases from carefully listening to what his fellow musicians play or take inspirations taken specific occasions, anything from Japanese folk melody of Charumera or the sound of leaves gently blown in the wind, and musically develop these through his virtuosic techniques on traditional instruments. At moments his playing will sound like a carefully composed concerto, which he calls "instant composition."(5) In his playing, composition and improvisation coexist without conflict. However everything is "instant." What acoustically emerges is an act of composition that is specific to the moment and space. This relational process with the environment becomes another key to stripping off the "traditional." His impressive solo performance at Kyugo Elementary School reflected various characteristics of nature that he experienced through visiting stone cliffs with gushing winds and the gentle winds that blew against the leaves at the tranquil mountain on a tour organized by Akio Suzuki. Although his performance may have had spiritual intuition, this is not anything like "Impression of Oriental Music"(6) but rather something that musical releases the dizi and xiao from the bindings of "traditional." What we heard were the actual traces of Tango that were left within the composer and improviser Yii.

(1) Kurosawa, Takatomo. Tonan asia no ongaku [Music from Southeast Asia]. Ongakunotomosha. 1970, p. 63.
(2) I have referenced the following interview and casual conversation I had with the artist. Nguyen Thanh Thuy Interview. http://asianmusic-network.com/en/archive/2018/02/nguyen-thanh-thuy.html。
(3) The official title is "Vodou vibrations sounds of memories of fields and burdens living in translations and broken bows balancing on plateaus while speaking to one self and scratching the surface of the raft while drifting away."
(4) I have referenced the following interview and casual conversation I had with the artist. Yii Kah Hoe Interview.http://asianmusic-network.com/en/archive/2018/02/yii-kah-hoe.html。
(5) Yii used the word "instant composition" but I used "Sokujiteki Sakkyoku" in Japanese to separate it from Misha Mengelberg's same use of word.
(6) Tanabe, Hisao. Toyo ongaku no insho [Impression of Oriental Music]. Jinbun Shoin. 1941.
3:Methods of the voice - Alice Chang, C. Spencer Yeh
Compared to how instrumental music and traditions are tied to the musician's locality, performing with voice seems to be more universal. Obviously how we use our voice is different to each culture, but its use is not limited to music and it relates to everything around us in our daily life. In addition to the actuality of voice as something fundamental to us, music critique Yoshiyuki Kitazato once described a "calling" as something that arrives beyond the limitation of the "here and now" and as an abstracted "Voice" that can be found in all sounds. In relation to this, French literary and music critique Ken Hiruma pointed out that the "here and now" is not a predetermined place but rather something that arises from the transformation of space through the "Voice."
Therefore when the "Voice" arrives through a performance of a specific voice, it is both fundamental and universal, but also resonates as a unique act of locality. This is not because the voice is equal to the person of the voice. Cultural anthropologist Junzo Kawada wrote: "To use one's voice is made possible by collisions of situations that allows for the act of using one's voice, the presence of the person who is using the voice, and the person who is being voiced at." A voice that is voiced, while maintaining the presence of the person who voiced it, leaves that person and intertwines with the situations and intentions, moving toward a creation of new values. This becomes the local "here and now." Moreover, the "calling" works towards two directions: a tool to understand the world and a tool to create a world.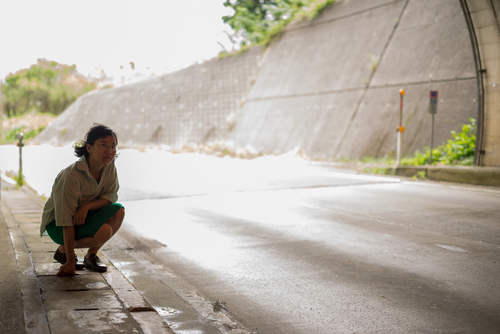 Born 1984 in Tainan, Taiwan, Alice Chang (Hui-Sheng Chang) started performing with her voice after she moved to Melbourne Australia to study sound art. Living in an environment that was not her mother tongue made her realize the direct communicativeness of the voice. The impressive volume and variety of vocal techniques that mesmerizes her audiences is not a result of specific vocal training but was refined through a self-taught personal exploration into the possibilities of voice and imitating sounds around her. Her voice exceeds far beyond the imagination and techniques of Western vocal music, which emphasize on the recognition of pitch and eventually becomes musical material for the composition. In contrast to her early inspiration, composer and performer Fátima Miranda who combines various singing techniques from around the world, Alice's voice emphasizes how it can transcend as sound within various relationships. When one hears in her voice a bowing on a double bass, a squeak from a saxophone, or even seagulls on a sun-setting beach, that is not because she is skillfully imitating these specific instruments or sceneries, but rather because the materiality of her voice has abandoned language as tool for communication and is directly working on the listener's memory.
However, Chang's extremely unique voice performance is not only about making the audience listen to non-meaning of the voice, but also is a method to delicately sense the outside world. Similar to animals that project ultrasound and listen to the reflection off of objects to determine distance and position, she conducts a research on the physical characteristics of the performance venue by directing her voice in various directions. She will often leave the stage and wonder around while carefully listening to how the space responds to her voice. Her voice flies around hitting the wall, ceiling, and various objects returning to her and to our ears. These are no longer her voices. Nor are they a medium to deliver a message. If there were anything to communicate, then it would only be about the sharing of this situation itself. For her, the voice is a "calling" to create a "here and now" but it is also a "calling" from what was created by the "hear and now." This is the same when she uses the microphone. She will adjust the distance between herself and the microphone while using her voice, sometimes walking across it or like how we saw in Sapporo, she will place her face in a bowl of water connected to a contact microphone. The microphone becomes more than device to amplify, but a partner to design a spatial distance and create changes in the "calling" of the voice together.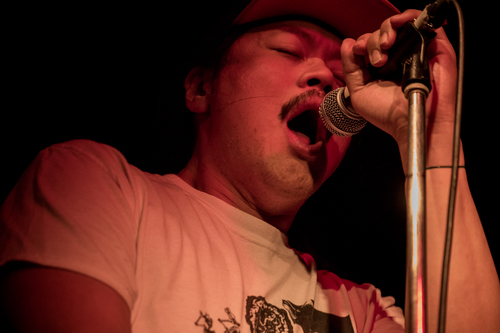 Although similar in the fact that they both use voice in their performance, violin and vocal performer C. Spencer Yeh's voice is in stark contrast to Chang. Born 1975 in Taipei, Taiwan, Yeh moved to The United States when he was a child, and started his musical activities while growing up in Cincinnati, Ohio. The cassette MTR he stumbled upon in high school became the starting point for his interests in experimental film and to deepen his interests in "recording and editing." His solo ambient / drone / musique concrete moniker, Burning Star Core is result of this creative pursuit. He is now based in Brooklyn, New York where he interacts with the local avant-garde jazz scene and actively participates in sessions, freewheeling his noisy violin. Parallel to these are his unique voice performances that can be heard in his solo album "Solo Voice I-X" (2015). Another inspirational encounter he had during his formative years was Japanoise. After experiencing the unconventional usage of voice by Masona and Ai Yamatsuka, he started his own explorations in the possibilities of the voice. His usage of voice focuses towards the material and sound media. Perhaps this is also filtered through his interests in "recording and editing."

Sounds evocative of harsh electronic noises are produced by the tongue, teeth, palate, lips, or any part of the mouth and captured by the microphone to be processed and transposed in real-time. Yeh's voice also has a non-meaning materiality. Although his process of sampling and cutting up makes the sounds unrecognizable, it still stands upon the fact that these sounds originate from the voice. The selection of the material seems to be crucial for his performances. This is probably the reason why he does not use his voice while he plays the violin and why he doesn't play the violin while he is using his voice. His action of rapidly moving his face left and right in front of the microphone to produce an intense beating sound is as if though he is wielding an extension of his mouth. If Chang sees the microphone as another space to work with to transform the venue with a voice coming deep down her throat, then Yeh is embodying the microphone as his second oral cavity and creating a new musical world through recording and editing acoustics carved out by the shape of his mouth. We cannot pinpoint a localism on Yeh who immigrated to The United States at a young age but the "calling" that is reconstructed through his voice becomes itself a location where we can find the origin of his music.

(1) Kitazato, Yoshiyuki. Koe no ron hibiku koe, kannjirareru [An Argument on Voice - The Resonating Voice, The that is Felt]. Koe no Chikara [The Power of Voice] edited by DeMusik Inter. Impact Shuppankai. 1996.
(2) Hiruma, Ken. Local Music. Inscript. 2005, p. 69.
(3) Kawada, Junzo. Koe. Chikuma Shobo. 1988, p. 5.
(4) I have referenced the following interview and casual conversation I had with the artist. Alice Chang Interview. http://asianmusic-network.com/en/archive/2018/02/alice-chang.html。
(5) I have referenced the following interview and casual conversation I had with the artist. C. Spencer Yeh Interview.http://asianmusic-network.com/en/archive/2018/02/cspencer-yeh.html。
Entr'acte - How a free improvisation is possible
One of the goals of AMF since the beginning is "to explore new collaboration models for new musical possibilities together with artist coming from various different backgrounds."(1) What were some of these models? AMF has utilized not only music venues but also museums and elementary schools for their concerts. The presentation format has also varied: small groups of three to four players, overlapping array of musicians playing one after another, playing in a large circle facing each other, and scattered around in a large space moving freely around. They have presented numerous ways to work that are specific to each location but at the core is always trying to find a method where musicians from different backgrounds can make music happen through improvisation.(2)

Why improvisation? One reason is perhaps because they were trying to create a way to play together without a center. The performance of a composition, whether the composer actually exists or not, will always move towards a privileged center. With improvisation the performers are always at the center and each performer becomes responsible for creating multiple centers.(3) What kind of improvisation was this? There are various ways to improvise, but if it leans towards a specific genre of music then that musical style becomes the center and artists from different backgrounds cannot establish an equal relationship. In order to be equal there cannot be any tendency towards a specific genre and a free improvisation must take place. Conventionally, for free improvisation, there needed to be an intention and an active participation to the performance from each musician.

However, we must question if free improvisation can just be an active act. Compared to the performance of composed music, which is more of a passive act of playing sounds that were predetermined by the composer, improvisation could be considered more active because the performer has to decide each of the sounds that will be played. But what if we compare this to the act of composing? Sounds are actively controlled in composition. Every sound written on the score has a meaning, and is placed by the will of the composer.(4) Similarly, we often compare improvisation with something beyond our consciousness, like intuition or spirituality, possessing the player while playing.(5) Although maybe there are influences from the environment or from the performer's condition, is this not a certain kind of passiveness that we catch a glimpse of? Does that mean that if we want to truly improvise freely we must possess an even stronger will to this passiveness?

Let's draw out another line. While untangling the history of the voice of a verb, philosopher Koichiro Kokubun writes the following in The World of Middle Voice.(6) Generally it is considered that a verb is polarized between "active voice / passive voice", but this distinction is relatively new and before this, "active voice / middle voice" were the dominant opposing voices. The "middle voice" is not defined by being in between active and passive. According to the definition by linguist Émile Benveniste,"the active voice describes a process where the verb starts from a subject and ends outside of the subject. The middle voice, which is in opposition to this, describes a process where the subject becomes a placeholder for the verb. Therefore the subject is within the process."(7) Consequently, what becomes the issue is not whether something is "to perform or acted upon" but whether "the subject is within or outside of the process."(8) This will bring a resolution to the dispute between composition (and its performance) and improvisation. We can redefine composition (and its performance) as an act of organized sounds becoming complete outside of the subject = performer, and improvisation as an act of sounds organized within the process of the subject = performer. Composition and improvisation are the same act but with a different voice. One cannot measure freedom based on the existence of a will to "perform or acted upon." Through referencing Spinoza's definition that "someone is free if their action is determined by the necessity of their own nature"(9), Kokubun concludes that freedom is not a active "free will" but a "recognition of a law of necessity that is consistent within oneself" that is expressed through a perspective of "active voice / middle voice."(10)

Therefore we must reconsider what is "free" in improvisation that is based on the notion of a will that is "acting upon." In the past, free improvisers often used the term "non-idiomatic improvisation." This was an attempt to remove all restrictions from conventions and rules of playing music as in idioms in language, in order to maintain the performer's free will.(11) This also meant to erase the "idiom" that each performer brought in from their different backgrounds. However, as we see a new grammar called "non-idiomatic improvisation" born out this history, we realize that this was just another attempt to work together by sharing a common language. "Pan-idiomatic improvisation" was a post modernistic attempt to include all "idioms" as a resolution to not being able to free oneself from all conventions and rules.(12) This method of making possible all different "idioms" coexist through giving equal rights created a situation where any kind of "idiom" can connect with any other "idiom." Consequently, this leads to a situation where we cannot find meaning in any specific grammar nor give value to a performance. "Electro-acoustic improvisation" and "Onkyokei" abandoned the problems caused by metaphors and references language and emphasized the act of listening. One cannot deny that these were a revival of modernism and at the end of pursuing "non-idiomatic improvisation" there was a standstill between nothingness and complete randomness.(13)

Let us draw yet another line. In Philosophy of Studying, philosopher Masaya Chiba analyzes language in order to explain his idea of "deep studying" and states the following: "To be free, in other words to open an outer environment = a space of possibilities, ...there is a necessity...to be conscious that words are non-transparent."(14) This eventually leads to detaching the "environment = relationship with the other" from words and fall into an impossible attempt to touch upon reality itself. Therefore we must once again acknowledge the "language's dependency to the environment" and the "multiplicity of environments = multiplicity of language." This alone will only create an excess of connections where every "language environment" will connect with each other endlessly. If a word can connect with any word then "it will not be able to retain a separate singular meaning."(15)By replacing "environment" with "idiom" and "language" with "performance", this follows the same pattern as "non-idiomatic improvisation" towards "pan-idiomatic improvisation." How can we get past this narrow path without a revival of modernism? Chiba finds "pleasurable particularities " in "traces of incidental and strong encounters" as an opportunity to cut off the "multiplicity of environments." This "particularity" is not absolute, and it must be a temporarily "footing." If we reconsider the "law of necessity that is consistent within oneself", in the previously seen perceptive of "active voice / middle voice"(16), to be based on the incidentalness of events, then to recognize "the necessity of one's own nature" as transformable yet unavoidably consistent and to move between a limited "environment" based upon incidental "particularities" becomes the path toward obtaining freedom.

Therefore this is what I propose. First we must become aware of the "idiom" that we stand upon. Then to remove it. However, not removing everything, but to be aware that we always have to depend on some kind of "idiom." We must imagine about the multiple "idioms" that are outside of the known "idiom." We do not connect with just any "idiom" but recognize "the necessity of one's own nature" and base ourselves on specific "particularities" to explore between a limited set of "idioms." What is important is that the "idioms" are pealed away but not all, and that it spills outward to an "in between" of other "idioms." Moreover, toward a "Inter-Idiomatic Improvisation."

AMF made possible a collaboration that could only be recognized after the fact, where artists come together to play and pursue an "experimental" process of violating and deviating from each of their local musical backgrounds. This was an equal collaboration that doesn't deny any "idiom" nor try to unite to one, and that moves between multiple "idioms" based on a local "experimentalism." There is a truly free improvisation here that is completely different from established ideas of "will" or "freedom" but as a fabric where individually specific multiple centers are woven together. This was at the core of the various formations of group improvisation that was put into practice and what AMF aspired as a new "collaboration model."

(1) Strictly speaking this is a goal listed for Asian Meeting Network, but they pursue this through the organizing of AMF, so we can say it is the aim for AMF.
(2) Asian Meeting did not limit itself to improvisation. For example at the first edition in 2005 they played a composition by Taku Sugimoto.
(3) These issues are solved by artists collaborating on compositions together. Composing is not denied, for example skip skip ben ben and Tavito Nanao recording a song together for "Asian Meeting Recordings #1." However there are no moments prepared for the artists to plan a song for each live performance. Therefore another reason why this is improvisation is to have "on the spot" as a condition to explore an equal collaboration.
(4) We can say that even with incidental music that places sounds randomly by an external system, or indeterminate music that leaves details to be decided by the performer or devices being used, we can say that in itself is the composer's will that is left in the artwork.
(5) Of course an act of composing can be done with spirituality and intuition like improvisation, but with a score one can make corrections afterwards. One can manipulate the spirituality and intuition on paper. However as I mention later, we cannot completely define composition as an "active will." There is a possibility to consider art itself as "middle voice." (Morita, Aki. Geijyutsu no chudotai jyuyou / seisaku no hyouso [The Middle Voice in Art]. Kizasu Shobo. 2013.
(6) Kokubu, Koichiro. Chudotai no sekai ishi to sekinin no koukogaku [The World of Middle Voice]. Igakushoinn. 2007
(7) Ibid., p. 88. (8) Ibid.
(9) Ibid., p. 262
(10) Here I am dealing with the general idea of "non-idiomatic improvisation." The "non-idiomatic improvisation" that is "often seen in free improvisation" by Derek Bailey (Free Improvisation. Kousakusha. 1981) has a slight difference in meaning. He writes: "Every kind of improvisation, whether it is traditional or new, all are born out of the relationship with something that is known."
(11) Shimizu, Toshiyuki. Sokkyo no testugaku ni mukete [Towards a Philosophy of Improvisation]. Jazz tensei. Shobunsha. 1987.
(12) Sasaki, Atsushi. Sokkyoron Saranarusokkyo no kaitai [Improvisation, a further deconstruction of improvisation]. Progressive Jazz. P-vine. 2014.
(13) Chiba, Masaya. Benkyo no tetsugaku kitarubeki baka no tame ni [The Philosophy of Studying]. Bungeishunjyu. 2017.
(14) Ibid., p. 56.
(15) Ibid., p. 99.
(16) According to Kokubu, the "true nature of self" is not something that is rigid, but is the "ability to transform" when there is stimulus from the outside and this ability itself is also transformable.
4:The body within electronic sounds - Musica Htet, Caliph8
Ethnomusicologist Curt Sachs wrote; "the fundamental notion between vocal music and instrumental music is completely different."(1) It is true that music will have different characteristics if made with voice coming deep down from the body or with instruments that are extensions of the body. Sachs referred to the later to be made possible through "virtuosic movements of the hand", and Derek Bailey referencing Sachs called the instrument "something to create an impulse as well as to receive it" and placed it as the most important origin for a musician.(2) Electronic music has a characteristic that cannot be placed in either. It does not start as an extension of the body but rather an attempt to "directly" realize the composer's mind - perhaps better described as an extension of the cranial nervous system.
An electronic music work can complete itself without the intervention of the performer. There is a fundamental break from the body. What meaning is there to perform electronic music in a live situation that exposes the body? One of the pioneers Henri Pousseur described live electronics in the United States after John Cage as; "an reaction to rationalism and against the excessive trust on methods of calculation, conceptualization, abstraction that further distances itself from the reality of practice and intuition."(3) Electronic music is versatile but not universal. We can find a body that is unique to the live performance within the textures of sounds that are collected or the movements that manipulate the sounds. A new world opens by activating the cranial nervous system through "virtuosic movements of the hand."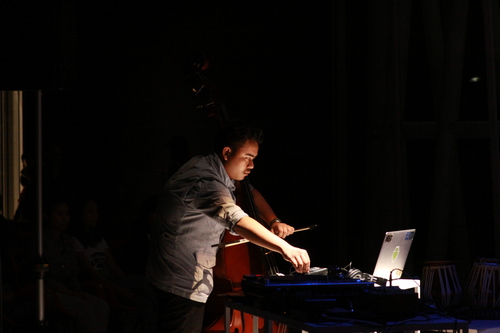 Born 1992 in the former capital of Myanmar, Yangon, Musica Htet is a double bass and electronic musician who is developing a unique practice.(4) He started playing the bass as a teenager after he met a teacher from Australia, which led him to becoming part of the newly emerging jazz scene of Yangon and later to study in Singapore after graduating form high school. His reasoning to study abroad was to learn about recording and audio technology but as a result this became his path towards "experimental" music. Studying under Brian O'Reilly of Black Zenith, his interests moved towards music that emphasizes on textures and producing musique concrete-inspired electronic music. He returned to Yangon in 2015, and two years later he initiated "Noise in Yangon"(5) emerging as a leading figure in the scene. This community was started through organizing live concerts, and for Htet, electronic music is not only something fixed in a recording but something to actively explore its possibilities through live performances. As he showed us at AMF, his sounds are collected from his playing of the base and processed on his laptop to create an abstract drone that is densely layered like an oil painting, gently drifting and folding over each other.
With such an abstracted sound, the necessity of the bass in his practice may seem negligible. During his performance at the Fukuoka Asian Art Museum he also collected sounds from metal plates connected to a contact microphone and the source were not exclusively from the bass. However, if you listen to the sounds before they are processed you will understand that he is fully exploiting the rich resonance of the bass. At many moments he will use arco bowing techniques and carefully determine where and how to place his bow in angel and speed. He sometimes prepares the bass with objects or hits it with a stick to create sounds with similar textures to electronic sounds. He carefully observes whomever he is playing together with and applies the appropriate real-time processing to the sounds. The performing body is encoded in to the resonance of the sound at a microscopic level. According to Htet, the bass is his "path" to music, and is a starting point for everything he does. It is the origin of his music that creates an impulse as well as to receive it. His interests in recording and audio technology set him on an "experimental" path, and has led him to develop a unique musical identity that explores a new direction in using the bass to encode the body within the electronic processing of sound.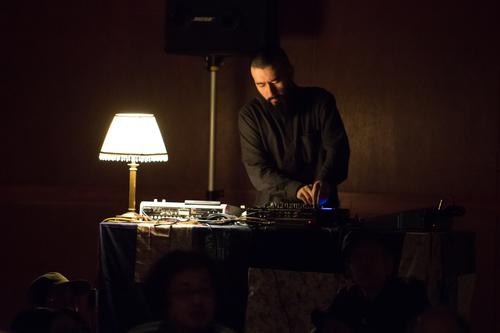 Compared to Htet's live electronics, Caliph8's body is more in the manipulation of the source material.(6) Born 1977 in Manila, Philippines, Caliph8's activities are not only in music but also spans across multiple disciplines such as video art, painting, sound installation. However, at the center of his art is always hip hop and sampling. Growing up in the West Coast of The United State during his formative years where gangsta rap was at its peak, Caliph8 emphasizes that his roots in hip hop are in Manila before he left for the States. Already in the 80's hip hop was popular in Manila, and he would listen to sounds that blasted from his neighbor's room who was a hip hop DJ. That experience alone is quintessentially hip hop. Regardless of the original musical context and treating each sound equally as a source material, hip hop's sampling culture places pop music, jazz, noise, classical music all next to each other. What Caliph8 describes as "storytelling", he emphasizes on the process of placing sounds into a new environment that will shine light on works of the past from new angle and context. After returning to Manila, Caliph8 has led the underground music scene as the "storyteller" through his various outputs. This perspective also establishes the foundation for his live performances.

At AMF, Caliph8 used three basic methods to play his music. One is using the MPC. He would reconstruct drums played by Elvin Jones through his own physical sensibility, which results in playing Elvin Jones' drum sound that was impossible by Jones himself. The second is cassette tape collage. By slowing down and applying effects to his previous releases and gradually raising the playback speed he is able to builds up a certain kind of excitement in sound. The third is real-time sampling from objects using a contact microphone. These three are combined in his performances, but for him they all derive from the creative impulse of sampling. Sounds that are sampled are transformed through electronics and structured with his body. In contrast to how Htet drones gradually change encoding the body into sound on a microscopic level, Caliph8 dynamically moves between groove rhythms and seductive harmonies by instantly inserting his body through the manipulation of sound. Although all music may have been sounded out, this deconstruction / construction based upon the body frees us from such skepticism and leads to the depths of a "practical and intuitive reality."

(1) Sachs, Curt. Wellsprings of Music. Edited by Kunst, Jaap. Translated by Fukuda, Shosaku. Ongakunotomosha. 1970, p. 144.
(2) Bailey, Derek. Inpurobizashion [Improvisation] . Translated by Takeda, Kenichi, Kihata, Kazue, Saito, Eiichi. Kousakusha. 1981, p. 207.
(3) Thibaudet, Jean-Yves. 88 keywords to understand contemporary music - from 12 tone music to mixed work. Translated by Kurihara, Utako. Ongakunotomosha. 2008, p. 53.
(4) I have referenced the following interview and casual conversation I had with the artist. Musica Htet Interview. http://asianmusic-network.com/en/archive/2018/02/musica-htet.html。
(5) http://www.noiseinyangon.com Htet also contributed a track titled "Noise in Yangon" to the compilation album "Not Your World Music: Noise in South East Asia" Which compiled noise music from throughout Southeast Asia and was released in 2016.
(6) I have referenced the following interview and casual conversation I had with the artist. Caliph8 Interviewhttp://asianmusic-network.com/en/archive/2018/02/caliph8.html。
5:Devices that devise relationships - Arnont Nongyao
The 1970 Osaka Expo was a showcase of electronic music's achievements but at the same time was also an event where attempts of "Intermedia" had reached its peak. Fluxus activist and composer Dick Higgins proposed the word "Intermedia" in the 1960's to point to expressions born in between various media of music, art, film, theater, and literature and to be distinguished from "mixed media" which he considers just an array of separable different media. I propose that we do not treat this as just a passed art movement of that era. "Again, the term is not prescriptive; it does not praise itself or present a model for doing either new or great works." The term was proposed because "it allows for an ingress to a work which otherwise seems opaque and impenetrable, but once that ingress has been made it is no longer useful to harp upon the intermediality of a work."
At the change of the century, the term sound art started become widely used. It is sometimes used to point to a genre of work, but what if we reinterpret it as an "ingress" as Higgins proposed for "Intermedia"? Musicologist Shin Nakagawa once described sound art as; "made possible by being outside of art" but at the same time a process of "escaping outside of music while still expressing through sound." The term sound art also points to a place that is "in between" and has not been given words. To think about "in between art and music" must not be about defining a genre but an attempt to redraw the boarder that was once defined.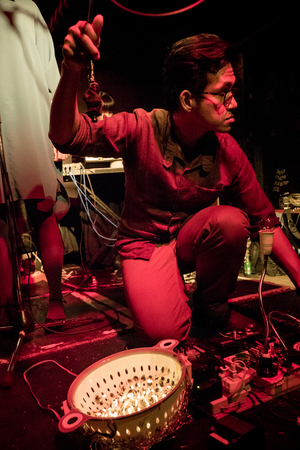 Born 1979 Bangkok, Thailand, Arnont Nongyao who is now based in Chiang Mai has carved out a practice that explores this "in between." After studying painting at Chiang Mai University, his artworks has moved far beyond painting, into video and installation. Particularly his work after 2010 has been characteristically focusing on becoming a medium for people to meet and exchange in relationship to sound. Works such as: "Change Position (Sound Throvies)" which creates improvisational music through the act of throwing tennis balls, "Mix Tapes as?" series which reads magnetic tape from a pencil-shaped tape head, or his moving music machines "Mobile Sound" and "Noise Bicycle", all create an interactive relationship between the audience, work, and artist through sound. One may call this an attempt to relational art, but even without this term we can draw upon the rich history of using sound as a process to build relationships. Nongyao was interested in listening to people talk or the sound of activities around him since he was a child. His interests have been consistently on the situation of sound, as he states: "I am interested more in how people can play together than what is being played."
One of Nongyao's original inspirations is Khvay Loeung, an audio inventor living in Phnom Penh, Cambodia. It is unique that his inspiration is not an artist nor musicians but an inventor, but also telling how Nongyao approaches his works from an inventor's perspective. His performances are more like live installations where he examines the resulting sounds from the devices that he invents. We can see this kind of approach in other artists like Tetsuya Umeda, who Nongyao was impressed by when he saw him at Bangkok's experimental music festival "DRIFT" which was themed under "ACCIDENT", and also in the works by Kanta Horio and Makoto Oshiro. David Toop has grouped this trend in practice, which focuses on specific phenomena rather than trying to perform abstract music, as "Phenomenologists". One may think that this relates to the art movement in the 90's called "Phenomena Art." However Phenomena Art was influenced by the complex systems science that emerged at the time. In contrast, the "Phenomenologists" are full of simple and primitive enjoyment of sound that proposes a rethinking on the human-centric attitude in music.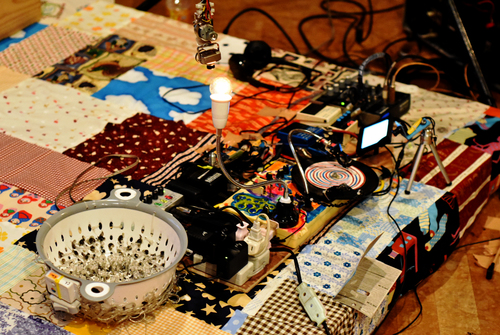 I would like to go over Arnont Nongyao's performance at AMF with his self-made devices. There is a spinning turntable with a disc with random protruding areas. A tone arm-like pickup runs along the disc and produces sounds that are like noises at the end of a record, but also percussive sounds every time it hits the raised object. These sounds are run through a delay effect creating delicate drones that feel like an exotic string instrument. He also uses sustained sound like a siren and changes its tone by shaking an object or creating a sense of climax through raising the pitch. Along side of these sounds, images are also controlled in real-time. There is a camera attached to this self-made device and images of various parts of his set up are projected on to the screen. Another camera is hung from a microphone stand pointing to lights underneath. He shakes this camera to create a psychedelic effect with the lights or he will point the camera toward the audience to distort the image further. His performance that combines image and sound can be called expanded cinema but the emphasis is not on the image but on the "in between" of sound and image.
What is interesting is that the image and sound are working on different principles. There is not a direct link between the brightness of the light and the volume of the sound, or between his action of shaking the camera and the increasing noise. Nongyao controls each of these by hand, matching the two in real-time. Why doesn't he automatically synchronize these? He says that if they are automatically synchronized then there is no purpose for him to interact. His body is what introduces the difference to the relationship of the image and sound. The images time stamps the sustained sound through a codependent relationship, allowing for a musical time to emerge full of transitions and changes. The opposite is also true - the images of colorful and blinking lights are united and given a narrative through sound. Nongyao's practice that works both on vision and listening is not a new genre born out of combining image and sound, but outside of each genre and is experienced through an exploration of the "in between." Therefore even when he is performing solo, his interests in "how people can play together" are still at the core as he creates a space where images and sound relate to each other. In the future, he will probably move on to performing with other devices that he invented, but these will always act as collectors of relationships through sound, and the "space" that is born out of this will always be the basis of his expression / artwork.
(1) Suzuki, Haruyuki. Intermedia no jidai to sono shuen wo megutte [The era of Intermedia and its end]. Nihon no denshi ongaku (zouhoban) [Electronic music from Japan (Extended version)]. Edited by Kawasaki, Koji. Aiikusha. 2009.
(2) Higgins, Dick. The Poetics of Intermedia. Translated by Iwasa, Tetsuo, Shouno, Taiko, Nagagi, Seiji, Shiraishi, Miyuki. Kokushokannkosha. 1988, p. 53.
(3) Ibid, p. 56, 57.
(4) Nakagawa, Shin. Sound art no topos - art management no kiroku kara [The Topos of Sound Art - From the record of Art Management]. Showado. 2007, p. 2.
(5) Otomo, Yoshihide. Ongaku to bijutsu no aida [In Between Music and Art]. Filmartsha. 2017.
(6) I have referenced the following interview and casual conversation I had with the artist.http://asianmusic-network.com/en/archive/2018/02/arnont-nongyao.html
(7) Toop, David. Can Sound. The Wire 400, June 2017. David Toop also refers to Yuko Moori, Ryoko Akama, Suzueri, Takahiro Kawaguchi, Rie Nakajima, and Pierre Berthet in this article.
6:The sound of Asia or a multiplicity of the concrete and particular resonance
As we have seen so far, all participants of AMF are unique in different ways. Interestingly, even with this variety people have been intrigued by the question of what is the "Asian sound"? Yong Yandsen who participated in AMF 2016, described a different sensibility between Asian musicians and Western musicians.(1) Yu Wakao who reviewed that year's AMF concert wrote he "could hear an Asian world perspective."(2) After experiencing a concert, music journalist Hajime Oishi wrote that he caught a glimpse of a "possible new image of Asia" and during a post festival symposium in February 2017 at Shibuya Uplink, he talked about an indescribable Asian-ness at AMF.(3) What is this "Asia-ness" that they felt but fail describe with words?
My passive answer to this is, what we witness at AMF as a whole or as a commonality of each performer as "Asian" is not something that can be / should be put into words or territorialized, and is only vaguely shared as something that is there. What we heard at AMF was not a faceless representation of "Asia" but multiple concrete practices from each individual musician. Being aware of its pitfalls, can we proactively think about "Asia"? Perhaps there is a hint here. Musicologist Tetsuo Sakurai, who ambitiously wrote an overview on ethnic music from all of Asia in The World of Asian Music, made a point that "an Asian sound in music is noise which is a constantly sustained sound or a drone."(4) He continues to elaborate:
 What does this noise culture, drone culture mean? It is the "co-dwelling of sounds." Multiple sounds with different characteristics are played simultaneously. These are means to avoid simplicity and are devices to create a rich sonic space. There is a forgivingness that allows for different elements to coexist.
- The World of Asian Music, Tetsuo Sakurai(5)
This text shocks us because of its relevance and spot-on description of AMF. But can we conclude that AMF is a reflection of an "Asian sound"? Not exactly. This text reminds us more of the attempts in free music where musicians from different backgrounds tried to establish an equal relationship. Either way, we must avoid careless assumptions of any preexisting notion of "Asia."
What is "Asia" and how has it been conceptualized? Chinese literary scholar Yoshimi Takeuchi once said: "There are two positions possible to take: To see Asia as a place to invade or as a body to resist invasion."(6) The position to see Asia as place to invade leads to the "Datsua Ron" that originates from an article written by Yukichi Fukuzawa in 1885 in the newspaper Jijishinpo. Fukuzawa argues that Japan must leave the inferior Asia and join the colonial power of Europe. This flipped into the ideas of Pan-Asianism, which a typical example was the "Greater East Asia Co-Prosperity Sphere" that argued for a united Asia to compete with the West. The second position of "Asia as a body to resist" is included in this idea. Either way, both of these ideas presume an entity of "Asia."
The origin of the word "Asia" is generally considered to be ancient Mesopotamia Assyrian from word of "Asu" meaning "where the sun rises." The opposite of this word being "Ereb" which means "where the sun sets" is considered to be the origin for "Europe." These were applied as opposing concepts in Herodotus' "The Historis" in ancient Greece. This concept of "Asia" that only applied to a small shore area in Turkey has expanded to the "far east" with the expansion of "Europe" toward to east. The Eurasia continent, which was a made-up word by English geographer John Mackinder in the early 20th century, divided west and east with Greece in the middle, and combined the vast eastern territories as "Asia." There was no geographical or cultural coherence between the areas. Instead of pointing to a region, this was something to point to the outside - a word to describe what was not the West.
Therefore "Asia" does not exist as a regional concept.(7) It was only in the 19th century that people living in "Asia" were confronted with the idea that they were "Asian."(8) "What defines Asian as Asian is only the word Asian."(9) "Asia" is merely "a way to define this world through a Eurocentric perspective."(10) If we borrow Takeuchi's words once again: "Asia is the collection of what has been excluded to make Europe possible. It is a collection of the non-Europian."(11) This maybe a rash definition, but nevertheless I agree with it.
What have been written as "Asian" music are actually sounds that escape from modern Western music, the resonance of what departures, in other words the "experimentalism" within local music. This owes to the fact that the word "Asia" does not point to a cultural or geographic territory but a word that is forced upon by the gaze towards the outside of Europe. When anthropologist Shinichi Nakazawa describes the music of Bartók as "a type that would never appear in the Western world"(12) that "creates a space that has not existed anywhere before through the constant meeting of different elements that are never absorbed into an universal base"(13) it is not a coincidence that so many similar words are used to as when describing an "Asian sound" and this should be considered evidence to support our argument. "Asia" does not exist.(14) If it does, it is in the "noise" that sneaks into the Western gaze. That is why when we talk about "Asian sound" the tone becomes similar to "experimental" music's critique on Western modernism. AMF was an event where the "Asian sound" and "experimentalism" existed as two sides of the same coin.
Consequently, the "Asian sound" must be a multiple resonances. However, this should not be put in opposition to the often misinterpreted idea of "Asia is one" by Kakuzo Okakura. Okakura's idea supports this multiplicity. When reading Ideals of the East one will realize that the context of his "Asia is one" is the "idea of Advaitism." Okakura describes the conflict between Asia and West since Japan's modernization as "two mighty chains of forces, which enthral the Japanese mind"(15), "One is the Asiatic ideal, replete with grand visions of the universal sweeping through the concrete and particular, and the other European science, with her organised culture, armed in all its array of differentiated knowledge, and keen with the edge of competitive energy."(16) Another person wrote about the same thing in much simpler word. Later in 1962, Buddhism scholar Daisetsu Suzuki who had a defining influence on John Cage and the music world wrote: "People of the West think upon a world that is already divided into two. In contrast, People of Asia start to think from where things have not divided."(17)
I propose to look at these not as opposing characteristics between the West and East but rather as a description of the West and its outside. "Asia is one" is completely unrelated to the idea of sharing one value system, but instead a thought that arises from something "we may or may not understand"(18) and is not based upon "world that is already divided" of the West. Therefore it is meaningless for us to criticize Okakura's idea of "Asia is one" but we should rather extract a new "Asia" from an "advaitism" with "grand visions of the universal sweeping through the concrete and particular" in a network of the faceless two layers of nationalism and globalism in todays society. That is what "European science, with her organised culture, armed in all its array of differentiated knowledge, and keen with the edge of competitive energy" and its drive towards universality / completeness cannot reach. The true nature of AMF that brings exchanges within Asia is an "Asian" collaborative process that does not aim towards something that is complete but finds itself in the results of continuous slips and miscommunications. We must consider a world that expands from fragments and direct our notions towards a musical localism that emerges through a resonance that we cannot hear. It was no other than Okakura who wrote:
The beauty of a cloud or a flower lies in its unconscious unfolding of itself, and the silent eloquence of the masterpieces of each epoch must tell their story better than any epitome of necessary half-truths.(19)
(1) Yong Yandsen Interview.http://asianmusic-network.com/en/archive/2017/12/yong-yandsen.html。
(2) Wakao, Yu. Noise improvisation wa asia ongaku no junpu to naru [Noise Improvisaiton will become the Sailing Wind for Music from Asia]. http://asianmusic-network.com/en/archive/2016/07/asian-meeting-festival-2016-4th-day-in-kobe-yu.html。
(3) Oishi, Hajime. Chushin no sonzai shinai ikutumono asia he [Towards an Asia without a Center].http://asianmusic-network.com/en/archive/2016/07/asian-meeting-festival-2016-3rd-day-in-tokyothe-significance-the-circlehajime-oishi.html。
(4) Sakurai, Tetsuo. Asia ongaku no sekai [The World of Asian Music]. Seikai Shisosha. 1997, p. 253.
(5) Ibid., p. 255
(6) Takeuchi, Yoshimi. Asia no naka no nihon [Japan within Asia]. Takeuchi Yoshimi zenshu daigokan. Chikumashobo. 1981, p. 176.
(7) Wakimura, Kohei. Asia was sonzai shinai [Asia does not exist]. Asia wo kangaeru. Fujiawa [Thoughts about Asia]. Edited by Fujiwara Shoten Editors, Fujiwara Shoten. 2015, p. 28.
(8) Okada, Hidehiro. Asia to Europe. Ibid., p. 19.
(9) Sugiyama, Masaaki. Asia no go wo konomu nihon. Ibid., p. 32.
(10) Cho, Kyo. Asia wo miru maeni subekikoto. Ibid., p. 34.
(11) Takeuchi, Yoshimi. Asia no naka no nihon [Japan within Asia]. Takeuchi Yoshimi zenshu daigokan. Chikumashobo. 1981, p. 177.
(12) Nakazawa, Shinichi. Tohoteki. Kodansha. 2012, p. 41.
(13) Ibid., p. 47.
(14) Although "Asia" does not exist, there are various effects that can be obtained by assuming its existence, and this has had influence on our thinking and actions. Therefore "Asia" is a "ghost" and in that sense AMF concretely lines up with being "postal."
(15) Okakura, Kakuzo (Tenshin). Toyo no shiso [Ideals of the East]. Kodansha. 1986, p. 180.
(16) Ibid.
(17) Suzuki, Daisetsu. Toyo shiso no fujisei [The singularity of Asia]. Toyoteki na mikata. Iwanami Shoten. 1997, p. 166
(18) Ibid., p. 168.
(19) Okakura, Kakuzo (Tenshin). Toyo no shiso [Ideals of the East]. Kodansha. 1986, p. 24.