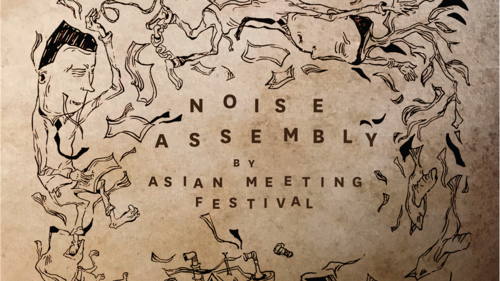 Enter a forest: the quieter you are, the louder your environment becomes. You listen and shift from being intruder to participant of an ecology sustained not by visual means but sounds that resonate and reverberate. Noise Assembly addresses such a collectivity. No stage or assigned seats - you sit amongst musicians scattered in the hall. Immersed in sound, there is no 'central' or 'ideal' listening point; vibrations arrive from near and far. With no score or common language, these musicians gather to play for the first time, listen and react moment-to-moment. There is hence no music here either, only the 'becoming of music'. Jacques Attali says that music is a prophecy to our society. Noise Assembly is what comes before this prophecy: the sound of burning fire that the prophet looks into and the heat felt on the skin. This is not noise of the "other" but of "ours" made by the act of listening together.
Asian Meeting Festival (AMF) collaborates with the Taipei Arts Festival to present Noise Assembly. Over 2 days, Noise Assembly will feature innovative and experimental musicians throughout Asia that push boundaries of music and blur the borders between the traditional and the contemporary. A total of 10 Taiwanese musicians and 5 Southeast Asian musicians will join AMF Directors Otomo Yoshihide, dj sniff, and Yuen Chee Wai for a 2-night performance at the Guangfu Auditorium. As in previous editions of AMF, the performance space will be reconfigured and transformed each night to create a unique listening experience. The musical program will include multiple constellations of performances by musicians working together in various sizes of groupings from small ensembles to A large-scale noise orchestra.
1. Sound art performance, without subtitles. 100 minutes including one 15-minute intermission. 2. The ticket for this program includes one alcoholic or non-alcoholic beverage. Alcoholic beverage may only be exchanged for over 18. Beverage may only be exchanged at the showing printed on the ticket. To ensure the quality of the performance, beverage service will stop during the performance period.
Day1
| | |
| --- | --- |
| Date | 9/8(Sat) 19:30 |
| Venue | The Guangfu Auditorium, Taipei Zhongshan Hall No .98 Yenping S. Rd .Taipei .Taiwan |
| Price | NTD 800 |
| Ticketing | Festival Tickets must be purchased at www.artsticket.com.tw starting Tuesday, May 29th. |
| Member | dj sniff/ Japan, Yuen Chee Wai/ Singapore, Otomo Yoshihide/ Japan, NGO TRA MY/ Hanoi, Sudarshan Chandra Kumar/ Kuala Lumpur, Wannarit Pongprayoon aka (Pok)/ Bangkok, Tony Maryana/ Yogyakarta, Erick Calilan/ Manila |
| Day1 | Fujui WANG/ Taipei, Skip Skip Ben Ben/ Taipei, Sheryl CHEUNG/ Taipei, Alice CHANG/ Tainan, Fangyi LIU/ Kaohsiung |
Day2
| | |
| --- | --- |
| Date | 9/9(Sun) 19:30 |
| Venue | The Guangfu Auditorium, Taipei Zhongshan Hall No .98 Yenping S. Rd .Taipei .Taiwan |
| Price | NTD 800 |
| Ticketing | Festival Tickets must be purchased at www.artsticket.com.tw starting Tuesday, May 29th. |
| Member | dj sniff/ Japan, Yuen Chee Wai/ Singapore, Otomo Yoshihide/ Japan, NGO TRA MY/ Hanoi, Sudarshan Chandra Kumar/ Kuala Lumpur, Wannarit Pongprayoon aka (Pok)/ Bangkok, Tony Maryana/ Yogyakarta, Erick Calilan/ Manila |
| Day2 | Meuko!Meuko!/ Taipei, Yenting HSU/ Taipei, Dawang Yingfan HUANG/ Taipei, Betty Apple/ Taipei, Dino/ Taipei, |
Free Forum Sonic Ideologies
People's Orchestra Workshop
Profile
dj sniff
dj sniff (Takuro Mizuta Lippit) is a musician and curator in the field of experimental electronic arts and improvised music. His musical work builds upon a distinct practice that combines DJing, instrument design, and free improvisation. He has performed internationally at various venues and festivals and has released 12 DJ mixes and 4 albums, which include collaborations with Evan Parker, Otomo Yoshihide, Martin Tetreault, and Paul Hubweber. His work has been reviewed in the New York Times, All About Jazz, The WIRE, and MusicWorks. During his appointment as Artistic Director of STEIM (2007 - 2012) in Amsterdam, he curated and produced over 100 projects including large-scale international festivals and award winning art works. Between 2012 - 2017 he resided in Hong Kong where he was Visiting Assistant Professor at the School of Creative Media CityU HK. Since 2014 he is co-Director of AMF, a festival focused on emerging experimental and improvised music form Asia. He is now based in Tokyo.
Yuen Chee Wai
Born in 1975. Musician, artist, designer based in Singapore. Often inspired by ideas drawn from philosophical and literary texts, and perspectives glimpsed through the filmic eye and photographic lens, Yuen's stylistic oeuvre in improvised music is marked by internalised reflections on memory and loss, invisibility and indeterminacy. In 2008, he teamed with Otomo Yoshihide (Japan), Ryu Hankil (South Korea), and Yan Jun (China) to form FEN (Far East Network). FEN focuses on the continuing multifaceted networks and collaborations between Asian countries. Since its inception in 2014, Yuen is part of Ensembles Asia as Project Director for Asian Music Network, to which he co-curates the annual Asian Meeting Festival (AMF) in Japan. He is also a member of the avant-rock band The Observatory (Singapore), with whom he plays guitar, synth and electronics. With nine albums to date, including the most recent August is the cruellest (2016), The Observatory has also conceived a vanguard of initiatives such as the annual festival Playfreely, which gives artists new creative avenues for performing and working together. Both FEN and The Observatory continue to tour extensively, performing in Europe, America and Asia regularly, and has presented in MIMI Festival, Lausanne Underground Music and Film Festival, All Ears Festival and Ftarri Festival.
Otomo Yoshihide
Born in 1959 in Yokohama, Japan. As a teenager, he spent time in Fukushima. Staying independent, he has consistently composed a wide range of music from improvisation to noise music and pop, and his music talent has spread all over the world. He has a successful career as a film score composer and has produced more than 70 movie soundtracks. In recent years, he has produced special type of concerts and musical works in collaboration with other various artists under the name of "ensembles". In addition, one of his priorities is producing musical workshop projects involving handicapped children. In 2011, after the Great East Japan Earthquake, he started "PROJECT FUKUSHIMA!" along with people in various sectors. He has been active beyond the music scene and this is the reason that he has attracted a great deal of attention. In 2012, he received the Minister of Education Award for Fine Arts in the category of Promotion for "PROJECTFUKUSHIMA!" In 2013, he received various prizes including the Japan Record Award for his accomplishments, such as composing the theme music for the TV drama "Amachan".
NGO TRA MY
Ngo Tra My is a dan bau teacher in Vietnam National Academy of Music and she is one of the most established dan bau soloists in Vietnam. She has the Certificate of Merit of being a dan bau soloist from the National Traditional Professional Music Festival (1992), a Diploma of dan bau (1994), and a Masters of Music pedagogic (2007) at Vietnam National Academy of Music. Her fields of activities are teaching, performing, researching in traditional and new music. She was the traditional instrument's visiting lecturer at Malmo Academy of Music-Lund University (from 2006 to 2008) and from 2006, she became the member of experimental music group, The Six Tones and with this group had many performances as tour in Scandinavia, England, Belgium, Singapore, Austria, Poland, America. Since 2008, she has been the Vietnamese delegate of ASIAN_Korean Traditional Music (now Asia Traditional Orchestra), member of Traditional Orchestra One ASIA (from 2013), music advisor of C Asean Consonant Ensemble (from 2015) and member of Thang Long traditional music band (from 2008).
Sudarshan Chandra Kumar
Sudarshan Chandra Kumar has performed for the Asian Meeting Festival (Singapore), CHOPPA Music Fest (Singapore), Playfreely (Singapore), KLEX Festival (Malaysia) and Switch On Festival (Malaysia) . He participates regularly in Serious Play Improv Lab (SPIL), a monthly experimental music series in Kuala Lumpur. Working with music for theatre, he is the music facilitator for Sekolah Main Wayang(2015-2018) , a children's theater workshop which emphasizes on the basics for orchestrating D.I.Y multimedia performances. Sudarshan also directed and scored music for his musical "The Propitiation of Fundamentals" (2015). Together with musician Yong Yandsen and art space owner Tey Beng Tze, LaoBan Records was established in 2017, and released its first album "clinamina" for His Hubris, a duo by Sudarshan and Yandsen.
Wannarit Pongprayoon aka (Pok)
Wannarit is the founder Panda Records, a Bangkok based independent music label (2000-present). He is also the founder of Stone Free Music Festival (I-III, 2012-14) and co-founder Keep on the grass Folk Music Festival (1, 2013). He became an active organizer/founder of Noise Market (craft / indie / art / music festival) (I-VII, 2013-present). He also co founded a music film project called The world may never know which has release close to 30 cassette tapes, and started a Bangkok original / underground live music venue called Motorcycle Emptiness which lasted a year from 2011. Musically, he is one half of the influential and eclectic Bangkok based duo Stylish Nonsense. They continue to be active in Thailand and overseas from 2000 - present.
Tony Maryana
Recording Artist, Composer, Electronic Musician, Percussionist and Musicologist, Tony Maryana, is based in the special region of Yogyakarta, unofficially recognized as the centre for arts in Indonesia. Graduating from the Indonesian Institute of the Arts, he has worked on several sound installations and performances with musicians from across the globe. He has written, recorded and adapted compositions with artists ranging from singers to percussionists to saxophonists. He is a member of Total Perkusi, a community dedicated to percussionists and cultural practices pertaining to percussion. He has performed both collaboratively and solo at various editions of Yogyakarta Art Fair and has worked extensively as a musician and composer in Holland and New Zealand.
Erick Calilan
Erick Calilan is a sound artist, hardware hacker and experimental musician whose works mainly focus on the illogical use of consumer-based electronic devices and reverse-engineering of technology. Through years his practice has included sound, kinetic and interactive installations, sound-based compositions and field recordings. He also makes circuit-bent synthesizers for his solo electronic noise project, Ugong [2005]. Calilan also collaborates with other artists, among them Merv Espina, with whom he formed an experimental electronic duo called Turmeric in 2016. Currently he is now working on a new musical project called Smalltown Press which explores the rudimentary improvisational element of live looping technique with focus on polyrhythms. Without any formal background or training in electronic engineering and in applied sciences, he developed his practice through independent research and experimentation, with a special interest on how to creatively manipulate analogue devices and study obsolete technologies in relation to sound as an artistic medium. Drawing inspiration from open source culture and open access ideology, he explores and expands his artistic practice by actively participating and initiating collaborations and discussions, especially amongst visual artists, new media art practitioners, builders, hackers, experimental musicians and sound artists.
Fujui WANG
Fujui Wang is an artist and curator specializing in sound art and interactive art, whose work has played a key role in establishing sound as a new artistic genre in Taiwan. A pioneer of sound art in Taiwan, in 1993 he founded NOISE, the country's first experimental sound label. He is currently an assistant professor of the Taipei National University of the Arts. His sound works, videos and performances have been issued on CD and DVD, most notably, Sound Bulb(2008), Sound Dots(2010), Hollow Noise(2011) and Electromagnetic Soundscape(2012). In 2015, Fujui Wang and another artist Yi Lu have co-founded the Soundwatch Studio to promote the creation, exhibition, performance and workshop of renovating and experimental audio art both locally and internationally.
Skip Skip Ben Ben
Skip Skip Ben Ben was originally Taiwanese girl Benben's early solo work in Taipei which she released several works such as "No-Fi, No Fiction" (2010). During that time while still in Taipei, she played in a shoegaze band BOYZ&GIRL, later releasing their self-titled debut album on the Beijing label Maybe Mars. In late 2010 Ben Ben moved to Beijing and joined Carsick Cars as a drummer and backup vocalist, recording with them for their Carsick Cars EP and playing at SXSW 2011. Shortly after, she returned to Taipei to reboot old projects and write new material, before returning to Beijing to reassemble skip skip ben ben as a full band. However the current incarnation of skip skip ben ben comes after a break from jet-setting between Beijing and Taipei, and took some time to germinate after a perennial pilgrimage back to Taipei. At the end of 2012, she released "Sacrifice Mountain" and on 14 Feb 2013, upon My Bloody Valentine's strong request, skip skip ben ben opened for their Taipei concert. Her 3rd album "Mirror in Mirro" produced by Jon Du of The Forests will be released by Maybe Mars and Taiwan indie label 22 Record in December 2015.
Sheryl CHEUNG
Raised in Taipei, New York, and Beijing, Sheryl works between sound, installation, and performance to explore a material concept of life. Perceiving life as a force, a mobility that drives our innate persistence to live, Sheryl is especially interested in the potential of vulnerable, ambiguous, and internal efforts that lead us to deeper awareness of the nature of being. Through ongoing explorations of sound, energy fields, and research into ancient and contemporary discourses on natural life, Sheryl seeks to reconcile our bare existence in today's increasingly post-wilderness world. Sheryl's work has been shown internationally, including at Taipei Fine Art Museum, Lacking Sound Festival, Taipei; Chronus Art Center, Shanghai; JOLT Arts Festival, and Jeju Art Museum, Korea. Her performance Inland was nominated for Arte Laguna Art Prize in 2013.
Alice CHANG
Born 1984 in Changhua, Taiwan. As a vocalist working with extended techniques, Alice builds intimate exchanges with her audience in improvisation. She creates an array of timbres and textures by controlling tension in her throat and alternating the passage of air and vocalisations. Alice often performs in collaboration with artists from various background or mediums. Alice graduated from RMIT University's MFA program (2006), and a MA in Therapeutic Arts Practices at the MIECAT Institute (2014), both in Melbourne, Australia. Since 2003, Alice has performed across countries in Asia, Oceania, and Europe. Alice has been involved in supported residencies in Australia, Taiwan, France, Portugal and Austria. Her music has been published by labels including Antifrost, Audition, Trente Oiseaux, Homophoni, Sub Rosa, Syrphe, Subjam/KwanYin, and more. Alice is now based in Tainan, Taiwan. She is the co-founder of Ting Shuo Hear Say, a community venue and organisation focused on listening, arts and discursive education.
Fangyi LIU
Fangyi Liu is a sound artist based in Kaohsiung, his work focuses on noise collage and field recording and he usually uses objects and voice as source material in his improvised performance. Despite the difficulties in translating, his is currently absorbed in French avant-garde poet and musician Henri Chopin's sound poetry. Liu is one of the operators of Cochlea, a sound promotion unit in Kaohsiung and he is also a member of Poor Squirrel, an experimental tape group cooperating with noise artist Gu, Huan-Zhang.
Meuko!Meuko!
The artist name Meuko! Meuko! Was created in 2007. She collaborated with Goodbye Nao members performing live experimental sound performances. Meuko! Meuko! started performing solo in 2015. Each of her performance contains ideas of improvisation and elements of new works, often collecting from various different objects and of strange sounds and noises. Her music has components of local experimental beats and a wide gamut of electronic music drawn from Taiwan's irregular view / architectures and buildings, muggy, emissions-filled air, and hectic streetscapes, with Mandarin and Japanese influences marry intricate beats and whispering lyrics. All these tiny elements serve as pondering points on the darkness that underpins the most intense emotions of the city's aggregations.
Yenting HSU
Yenting Hsu investigates the cultural context of sounds, explores the connection between life, environment and ethnic cultures, and reflects on the relationship between sounds and their surrounding world from an alternative angle. Using field recordings as her primary source material, Hsu creates audio documentaries, soundscapes and sound performances. Often forming an intimate relationship with local communities and artistic partners, Hsu likes to explore the interreflection between external cultures, environmental sounds and individual/collective memory and emotion. In recent years, Hsu's sound pieces have increasingly explored the psycho-geographical dimensions, examining the profound connection between external soundscapes and inner reflections. She also works extensively with dance theaters as a sound designer.
Dawang Yingfan HUANG
Born 1975, Taipei, Taiwan. A prolific bedroom musician, initially inspired by music of Einstuerzende Neubauten and Geinoh Yamashirogumi(e.g. original soundtrack of anime film AKIRA), and made first self-released compilation in 2001. Since 2002, he began live performance in various forms, among the gigs, mostly 3-piece rock band, live electronics, unplugged improvisations and so on. During 2004 and 2010, Huang lived in Osaka, Japan for study and work, and had many small gigs in Osaka, Kobe, Nagoya and Yokohama. After returning to Taipei, he joined Kandala Records, a small label devoted to experimental/free music. The environmental improvisation project Minkoku Hyakunen, released in 2011, was honorally mentioned in Prix Ars Electronica 2012. Yingfan's Blackwolf Nagashi series, the most famous project of Huang, especially focuses on the history of popular culture, and covering every song in the style of cheap cabaret songs or karaoke club. He has delivered performances in Hong Kong, Macao, Singapore, Berlin, Linz, New York, Tokyo and London. Since 2013, Huang took part as an actor in several short films and music videos. TPE TICS, a documentary directed by Jessica WanYu Lin in 2015, won a special jury prize in 18th Taipei Film Festival.
Betty Apple
Betty Apple comes from a younger generation of avant-garde artists in Taiwan. Her focus is on live art and sound art, while also engaging in video art, behavioral art, electronic music producing, DJing and art curation. During her ten years of solid physical training and directing experiences in theater and film, Apple specialized in improvised, realistic performances. In recent years, she became an advocator of live art and created the Sound of Yin (陰性聲音) series, where she improvises music through a facilitated dialogue between body and object. The main idea is to symbolize what is repressed by the seemingly perfect/accurate sound of science and patriarchy. In the past, she was resident artist at the 2013 Lacking Sound Festival in Taiwan. Her sound/behavioral sound project "超脫國歌cha twat gringo -- The Ecstasy of Anthems" won the S-An Cultural Foundation award. She was also one of the producers in "I love nuclear?!" - the first electronic music album dedicated to Taiwan's anti-nuclear movement. In 2017, she was one of the music producers for dance company MeimageDance's "New Paradise of Silent Island," a production led by winner of the 19th National Award for Arts, Ho Hsiao-Mei.
Dino
Dino is a sound artist and a guqin maker based in Taipei. Once a bassist of the Clippers Band, he is a seminal figure in the second wave of the noise movement in Taiwan during the late-1990s. He uses simple analogue equipment to create electronic sound with no input, which is known as 'recycle music', by generating loops from circuitry noise, static, or microphone feedback. In recent years, Dino participates in experimental films and live music production for the theatre. He was awarded Best Sound Effects in Taipei Film Festival (2003).