Asian Meeting Festival in collaboration with Playfreely- Its value and substance as a networkKanako Yamamoto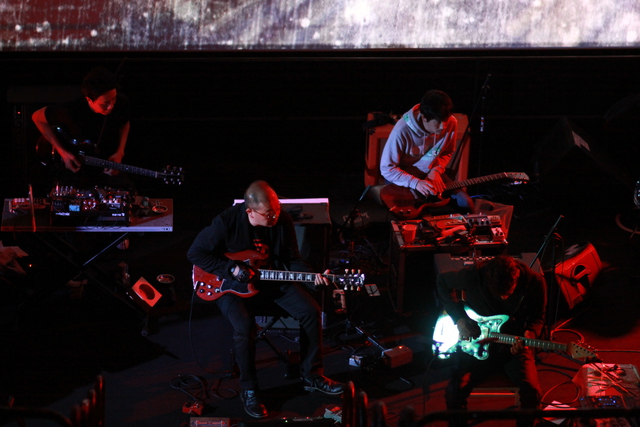 Asian Meeting Festival (AMF) is different from regular music festivals in that it results from the research and fieldwork conducted by Asian Music Network. The festival format is a showcase of performances but behind this is a web of interests connected through artists, musicians, and organizers and communicated through music and creativity.
I was asked to join the four days of AMF taking place in Singapore and Kuala Lumpur to write a review. I know some people prefer a musical critique of the event but I decided to write about the project as a whole, including what happens offstage. Rather than trying to describe this indescribable music, I felt that it was more important to review this project so that its value within society and the music scene could be emphasized.
AMF in Singapore was a partnership between local band The Observatory, and the event was in conjunction with their experimental music festival called Playfreely, which they have been organizing since 2011. The Observatory's vocalist Leslie Low says Playfreely[1] was inspired by Asian Meeting[2] - the predecessor of AMF which was singlehandedly organized by Otomo Yoshihide between 2005 - 2009. AMF in Kuala Lumpur was held in collaboration with an experimental film, video art, and music festival called KLEX[3]. This festival is held every year around November. The main organizers are independent artists such as by Kok Siew Wai who participated in AMF2015 and Yong Yandsen who played at AMF2016.
This was the first time for AMF to be held outside of Japan, which signals to us that there is no more central location for networks of experimental musicians. Although important musicians in the so-called Japanoise scene such at Otomo Yoshihide and Jojo Hiroshige had participated, the audiences were not only focused on these guitar legends but equally set on all the artists. Perhaps it is true that many pioneers of this kind of music were from Japan, but new talent is emerging from all over Asia today.
After each concert, I interviewed several audience members and found out that they came from various backgrounds and interest, and were not all familiar with improvised music. What was particularly memorable was the encore at the end of the show in Kuala Lumpur. After the last set, the applause never ended and someone called out "encore!" and another shouted "Senyawa!" Gradually the voices built up to a roar calling for Senyawa - the duo between Rully Shabara and Wukir Suryadi that was not planned for that night's program.
When I talked to some people in the audience, they told me that Senyawa's name was spreading among the Malay hardcore, punk, and metal fans, and many people came to the show because they spotted Rully and Wukir's name in the lineup (Indonesian and Malaysian language are similar enough to that they could understand postings written in Indonesian). Another person I talked to was an immigrant from Indonesia living in Malaysia and he came to see Senyawa as well. However, he continued to tell me enthusiastically, "I was very excited not only by Senyawa but also about the other musicians too. I am very happy to find new music outside of metal and punk that I usually listen to." By incorporating improvisation and noise into their music, Senyawa is breaking down conventional music communities and advancing their music to the next level. This encore made me hopeful of a better place for music, where it is not boxed up in ridiculous categories.
It was also the first time for AMF to include visual artists in their lineup. Filmmaker Takashi Makino screened his own solo work and participated in the sessions. Collaboration between visuals and audio can be unbalanced with one side being stronger than the other. However the trio between Takashi Makino, C. Spencer Yeh, and Kok Siew Wai in Kuala Lumpur was an impressive blending of image textures and sound, creating an illusionary space that was only possible by these three artists. An Murazato who participated from Omuta, Japan said she has collaborated with many musicians, but this time she felt that she could expand her expression more through working with artists from other practices. It seems that they have succeeded in bridging artists and works that escape the category of noise and improvisation outside of its small community.
During a very concentrated four days since they all arrived in Singapore, each musician mingled and gradually deepened their understanding amongst each other. On the long bus ride from Singapore to Kuala Lumpur, Tara Transitory and Dharma Shan shared their recent experiences on their projects abroad, and gave each other advise for their upcoming projects. Astushi Arakawa, who had seemed a bit anxious since he arrived, looked more relaxed after the second concert in Singapore. That day he went to lunch with Sudarshan Chandra Kumar and managed to exchanged information with his limited English. He also played a duo with Dharma that evening, who he said he was the most curious about. These intimate moments of communication had gradually opened him up a bit more. "How can I continue to be active in a regional city like Koriyama, Fukushima?" Arakawa brought this question up while asking me about the scene in Okinawa where I am based. It seemed as though he was becoming more hopeful about future activities that wouldn't be limited to just his domestic region.
As I wrote in the beginning, AMF is a showcase but its real value is what happens offstage. It is a space for each artist to share their ideas and experiences about their activities in their local scenes, and it is a planting of a seed for the future. For example, the organizers of AMF Kuala Lumpur, Kok Siew Wai and Yong Yandsen have each participated in past AMF editions. They told me that the last KLEX festival they organized in November had more audience than ever, and it is likely that AMF had some sort of influence on their already long-standing grassroots activities. Another example is Playfreely, which was inspired by Otomo Yoshihide's Asian Meeting. Since then, The Observatory has been brewing a free-playing musical platform in Singapore for the last five years.
The word "network" seems to be used carelessly with every international exchange program these days. AMF and Asian Music Network also aims to build a network, but from observing the 4 days of the festival, their network is left for the participants to build. What kind of action to take next, who to talk to, what to eat for lunch - if the word network signifies a network of people then it should be based on each individual's action and not managed by a project. The task of two directors of AMF, dj sniff and Yuen Chee Wai, is to only set up is a showcase that connects the dots of various artists scattered around Asia. These dots disperse after the festival, and whether they collaborate or meet on tour is not controlled by anyone, and future collaboration are left to the participants to pursue or not. Therefore the festival is actually a showcase of the first meeting of a possible future network. As an audience this is quite thrilling to witness. This possible future network is also not limited to just Southeast Asia. Many of these artists collected from ASEAN countries are looking to expand their activities further. I hope that these dots connecting in this Asian region will set off more reactions far beyond Asia and spread to the rest of the world.
Kanako Yamamoto
Founder of Offshore - a cultural platform for music, art and culture in Asia. She is active in writing and organizing events focusing on socially engaged art, noise music, and improvisation. Born in Amagasaki, now living in Naha.
http://www.offshore-mcc.net

[1] Playfreely takes place in Singapore, organized by The Observatory and its current four members Leslie Low, Vivian Wang,Cheryl Ong,and Yuen Chee Wai. It was started in 2011 but due to the bands touring and recordings schedule the festival does not happen every year. "Playfreely+" held in 2014 invited Ryu Hankil from Seoul, member of F.E.N. consisting of Otomo Yoshihide, Yuen Chee Wai, Yan Jun, and Wukir from Senyawa conducted a workshop. The program also included a panel discussion. https://www.facebook.com/playfreelyexperiment/ 

[2] I have made a distinction between Asian Meeting Festival (AMF) and Asian Meeting. The purpose is to clarify the difference between the project that currently runs by Japan Foundation Asian Center with Otomo Yoshihide as Artistic Director since 2014 and the past editions which were self organized by Otomo himself. The Observatory members Leslie Low, Vivian Wang, and current AMF directors Yuen Chee Wai and dj sniff where all participating artists during Asian Meeting 2009. The early iterations of Asian Meeting were called Asian Meeting Festival too, but since Otomo frequently referred to the festival in his blog, Otomo's Jamjam Diaries, as just Asian Meeting, I decided to use this.
Reference:
Otomo Yoshihide's JAMJAM diaries 2009/10/22 http://d.hatena.ne.jp/otomojamjam/20091022
Otomo Yoshihide's JAMJAM diaries 2009/10/28 http://d.hatena.ne.jp/otomojamjam/20091028
[3] KLEX is an acronym for Kuala Lumpur Experimental Film, Video & Music Festival, which started in 2010 and has taken place every year around November. Since 2014, they host the festival at alternative art space FINDARS and Lostgens Gallery which are in the same building. Various programs take place over a period of a week.
http://www.klexfilmfest.com