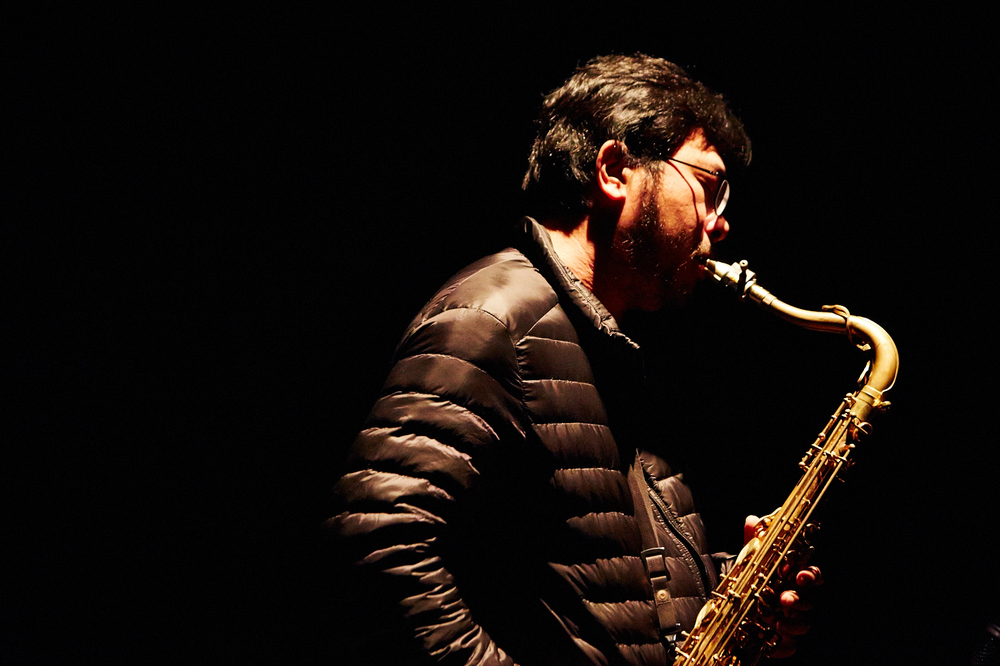 Interviewed by Hajime Oishi

From Death Metal to Jazz

--Can you tell what you thought of participating in this year's Asian Meeting Festival?

fter our final concert we had an after party. There, it was such a good mood, everyone was laughing and hugging. It really felt like we were one big family.

--Which concert out of the tour was the most memorable for you?

Every concert was completely different, so they each left a strong impression on me. At first we didn't know each other, and we had to improvise without really knowing what to do, but even then it went fairly well. After the 2nd or 3rd time we started to understand each other's sounds and we learned to respond to each other. By the end, we were able to reach deep down into ourselves and I think it was something very special. It really felt like we played with music and enjoyed the music.

--You also play with many musicians who come from outside of Asia, is there something special when playing with all Asian musicians?

To be frank, I think Europeans are very serious. They are stricter on how they approach the music and take things more seriously. When I play with Europeans, it's never really completely improvised, but we have our thing that we do or we have a general direction. So there isn't really space for being too creative. But this time was different. Everyone felt familiar to play with and I was very relaxed. Another point is that European musicians are always talking about music, but this time we hardly talked about music. We were mostly talking about hanging out, food, and eating. It was really fun.

--I want to ask you about your background. Are you born in Kuala Lumpur?

I was born in a suburb of KL called Selangor. I moved to KL when I was 12.

--When did you get interested in music?

My parents forced me to take piano lessons at 12. I practiced in front of the score day after day, and of course you have to play it exactly right - stronger here, louder there, at this tempo, etc. And I didn't enjoy these rules at all. After that I stopped playing the piano and played the guitar. I listened to rock music then.

--Who were your favorites?

Sex Pistols, Black Sabbath, Sepultura, Morbid Angel...

--Wow Morbid Angel! You went all the way to death metal!

Yes I was so into it that at 15 I started a punk and death metal band.

--What year are you born?

1976.

--I am born in 1975 so we are almost the same age. I also had a heavy metal band when I was 15.

Amazing! I had such a bad experience learning the piano that when I found punk and rock it was such a liberating feeling. At the time there were several venues in Kuala Lumpur and they would put on punk shows.

From pastry chef to musician

--So you started playing the saxophone then?

To get to that story I first need to start from the year 2000. That year, I had a chance to bring my band to Mainland China. This band was a post-punk band that I played guitar and was on vocals. We went to local venues, and every band was good, but they all sounded the same. That made me rethink about rock and my music, and when I got back to Kuala Lumpur, I decided to break up my band.

--Then you picked up the saxophone?

No, after I broke up my band I went into training at a bakery to become a pastry chef.

--What, really?

Yes! Everyone told me that I was good at making cakes and that I could become a professional so I made that my job. Around that time a friend of mine turned me onto jazz. That's when suddenly I wanted to play the saxophone. But the instrument was too expensive for me to afford so I worked hard to save up enough to buy it. But actually, the first instrument I bought wasn't the saxophone, it was the clarinet.

--Why?

I was totally not happy with it. The sound was so small. So after that I bought a flute, but that also wasn't right. Things started to become more stable at work so at some point I finally bought my saxophone.

--So you started listening to jazz after you returned to KL. Who inspired you?

My first record was John Coltrane. I was really into it. It was really different from the death metal and punk that I was listening to before, but there was a sense of freedom that I found in the music. Everything from the tone, texture and structure felt very free.

--I was very impressed with your playing at Asian Meeting Festival. Your saxophone is very dynamic and aggressive but it seems like the best instrument to represent your roots in rock music.

That is absolutely true. I was always so frustrated when I played the clarinet. I was trying very hard to find ways to play loud on the clarinet and flute. I love their elegant sound but they are just too quiet!

--I want to ask about your current activities. Can you first tell me about one of your main projects Klangmutationen? How did this start, and what is it about?

Klangmutationen is a band I started after two to three years of playing the saxophone. There is one drummer, one guitarist for noise and drone, and two saxophonists including myself. Overall, it's pretty dark stuff.

--When you started the band in 2003 what kind of places did you play in Kuala Lumpur?

There weren't other bands playing experimental music before us and there wasn't a venue for this music either. So, we played at heavy metal and punk venues. Sometimes at galleries as well.

--Were there more experimental bands after Klangmutationen?

No, it was just us for a while. Maybe after five years or so around 2010 there were some people trying to copy us.

--Other than Klangmutationen, you also have a trio called Game of Patience with an Australian and an American living in Singapore.

Yes, I was looking for a jazz drummer, but there weren't any good ones in KL. Darren Moore invited me to play at the Mosaic Festival in Singapore, and that's when we first played as a trio. I think it was 2009. Darren on drums and Brian O'Reilly on bass. They both teach at the Lassalle College of the Arts in Singapore.

Doing experimental things in Malaysia

--You are also the curator of the only Malaysian experimental film and music festival KLEX.

Yes, I curate the music program for the festival. First, it was only a small event that screened experimental films. Kok Siew Wai, who studied film in the U.S. and is a voice performer, and myself, we started it as a handmade festival.

--How is this festival received today?

No one came to the first event. Everyone said it was too difficult for them to understand. That's why for the second edition we added music and made it an experimental film, video, and music festival. I lost a lot of friends because of this festival. Friends that came to the first events never came back, and one by one my friends left me.

--That is sad.

That's Kuala Lumpur for you. It's not a place that will make time for difficult films. It can't be abstract either. To be honest I don't understand most of the films that we screen. But I get the message, and I feel sympathy to the expression.

--You started KLEX in 2010, has there been change over the years?

I would like to say there is change for the better, but maybe I'm saying that just to feel a little better about ourselves. But to believe that there is some impact is what keeps us going. Of course, we have worked very hard and our program has expanded to include much more of variety of works. But still, there is not a large audience.

--Are there more musicians playing experimental music these days?

Yes, but the younger generation is mostly playing on their laptops.

--Is there a place for these musicians to gather?

In Chinatown, there is gallery called Findars. They host experimental music events and screenings on a regular basis. Malaysia is a multi-ethnic country but there still is some racial divide. I am Chinese-Malay but it's not so often that Malay people would come see my show. I think this is a unique situation here. I try to get my Malay and Indian friends over as much a possible.

--Do you want music and art to transcend racial divides?

Yes of course. When I was younger and playing rock everyone was having a good time regardless of their race. Later on, some groups became more politicized and started singing about independence in Chinese and others started to represent more of their ethnic identity. Personally, I didn't really care for these messages.

--Last questions, what are your future plans or aspirations?

To play music. To continue. That's all.