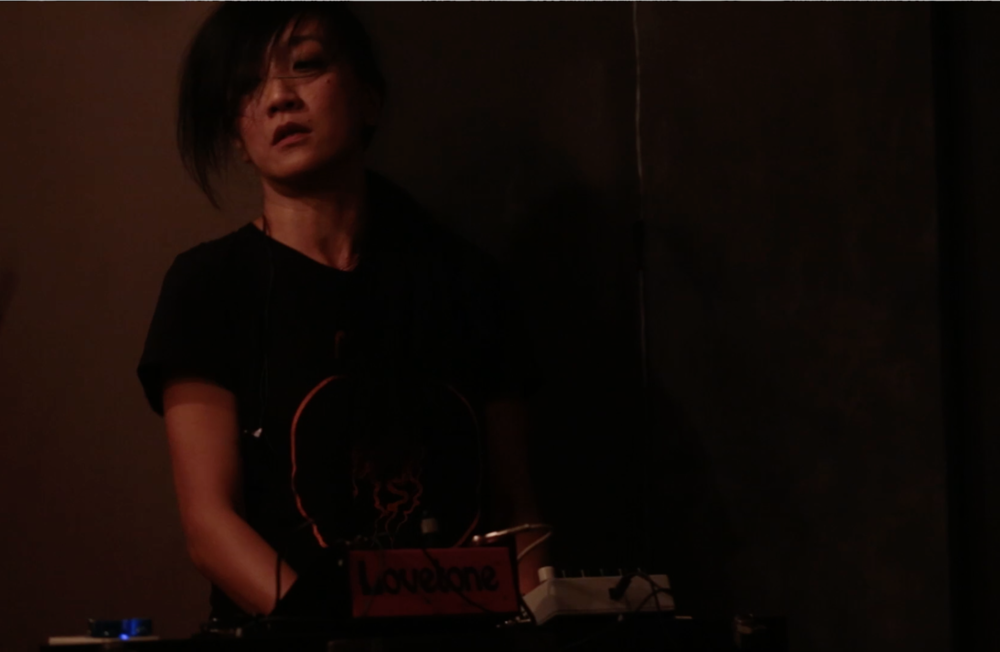 Interview by Kanako Yamamoto (Offshore)
(Interviewed via email)


I always keep a pop sensibility


-- First, could you tell me how you became a member of The Observatory? According to your profile on the AMF website, you were originally playing the piano. How did you become involved with rock and experimental music?


I formed The Observatory in 2001 together with Leslie Low, and initially I was the songwriter and lead vocal. I had been playing the piano and majored in music at university. Since a child, I was crazy about pop music and rock. The first song I learned when I was around three years old was "Yesterday" by Paul McCartney, "Without You" by Harry Nilsson, "Strawberry Fields Forever" by John Lennon. When I lived together with my uncle, aunt, and grandmother they played these songs for me all the time. I would sing along like crazy with a toy microphone. As I grew up I have always been interested in pop music, soul, and jazz. Yes, I have a very "pop" sensibility. Is that surprising? By the way, Bill Frisell is playing a very nice version of "Strawberry Fields Forever" in this Tiny Desk series.
(Bill Frisell: NPR Music Tiny Desk Concert https://youtu.be/NO-1Euq2RBk )
When we look at pop music, I don't think that all of it is that interesting. I love Dionne Warwick and Stevie Wonder and older bands such as The Beatles, Yes, Soft Machine, songwriters and singers like Neil Young, Nick Drake and so on. Among recent musicians I like Savages, Madlib, Flying Lotus. I don't think that it is difficult for experimental music to enter these genres. The more interesting music there is, the better the world would be, don't you think so?


-- Are you doing other projects than The Observatory?

 
Yes, I have several other music projects. ARCN TEMPL, Meddle, Snake Blood Union. I also have an unnamed duo with The Observatory 's drummer Cheryl Ong, and several solo projects as well.



Rethinking music within society and through musician communities
-
- You told me once before that members of The Observatory are all fulltime musicians. In Japan, it's rare for musicians to make a living from music, and especially those who play experimental music usually have other jobs. At the same time many of these musician prefer to have a separate job and do things experimental in their free time as it seems to be a more comfortable way of living. Why did you decide to do music fulltime?
It is certainly not easy to play music professionally. However we also think that it is necessary for our music to reach the next level. It becomes difficult to find enough time to concentrate, experiment and create while you have another job.

-- Can you tell me about the festival Playfreely which The Observatory organizes? What is Playfreely's goal? 

 
The aim of Playfreely is always to try out Derek Bailey's idea of improvisation practiced by both the audience and performers. The result is not about whether it was good or bad. We have hope that this kind of event will break down existing boundaries.
-- During "Asian Meeting Festival x Playfreely", the teamwork among The Observatory was impressive, and I was touched by how kind all the staff members were and also how everyone was enjoying the process of making the best concert possible. How did you involve all the members supporting The Observatory?
In recent years, many different people have supported us because we have been inviting a variety of different kinds of artists and musicians. We have been trying to present that making music has meaning not only within a small musician community but also in society as a whole. We wanted it to be an opportunity to think about what music can do.


Emphasizing to listen rather than to play


-- I want to ask you about your musical expression. During the Asian Meeting Festival it was fun to hear your heavy bass sounds. During the early stages of The Observatory you used to play the piano, why did you switch?
In The Observatory, our bass player Victor Low left in 2012 so someone had to take on the challenge, and I decided to play bass. I thought if I played bass guitar at home my lovely cat would die, so I play bass on synths.
-- Your bass sounds are very distinct, heavy but warm at the same time. Your duo with Otomo Yoshihide at Asian Meeting Festival x Playfreely was very nice. Also your trio with Tara Tansitory and Jojo Hiroshige at Asian Meeting Festival Kuala Lumpur was also wonderful. How do you choose your synthesizers and instruments when you are trying to define your sound?

I try not to think about my instruments and the setting of my gear. If I want to make delicate sounds or heavy sounds I try to select it within the range that I can find. I try to emphasize on listening rather than playing. If something seems risky I will make a change. It's necessary for me that my setup is confortable so that I can try to go beyond my limit.
-- Can you tell me your impression of participating in the Asian Meeting Festival as a musician? Some musicians you have played together before and others you probably met for the first time. Was there any inspiration for you?
I had met before all artists except for Jojo Hiroshige, Jyunji Hirose, C. Spencer Yeh, and Takashi Makino. However I enjoyed every session during the festival. I felt that I particularly got along with Spencer. I was able to gain an incredible amount of energy from being with all the musicians and there is no doubt that there was enough inspiration for me.